On Tuesday April 27, the Judicial Service Commission appointed Madam Justice Martha Koome to the post of Chief Justice after two long weeks of interviews.
Following the appointment of the Chief Justice, President Uhuru Kenyatta will forward the name to the National Assembly for consideration before being sworn in at State House.
"The JSC unanimously recommended the appointment of the Honorable Judge Koome Martha Karabu, Judge of the Court of Appeal as Chief Justice of the Republic of Kenya," said JSC Vice President Olive Mugenda.
Court of Appeal Judge Martha Koome
Twitter
If sworn in, Koome will be the country's first female chief justice. This is the second time that Koome has sought to become Chief Justice.
She has 33 years of experience in the practice of law and was among the 10 shortlisted candidates for interview for the post of Chief Justice of Kenya.
During her interview, Koome vowed that she would do the job diligently if she had the chance to be Kenya's next chief justice.
"Whatever work God puts in my hands, I do it with passion and take away all my arsenals to do this work and achieve what I need to accomplish," she said.
Asked how she would resolve the 41-judge standoff submitted by retired judge David Maraga, Koome said the CJ's office allowed her to phone and speak to President Uhuru Kenyatta.
"Even though it's been tried before, I didn't do it, so I would try again.
"I don't know anyone in the executive. The closest to his excellence was when he came here for the State of the Judiciary report launch and we were invited up the stairs to take a picture," she declared.
For her part, Deputy Chief Justice Philomena Mwilu will continue to serve her sentence until she reaches the retirement age of seventy.
The commission interviewed 10 candidates including; Judge Said Juma Chitembwe, Professor Patricia Mbote, Judge Marete Njagi, Lawyer Philip Murgor, Lawyer Fredrick Ngatia, Judge Matthews Nduma, Judge William Ouko, Professor Moni Wekesa and Lawyer Alice Yano.
Interviews began months after Chief Justice David Maraga retired after serving for four years.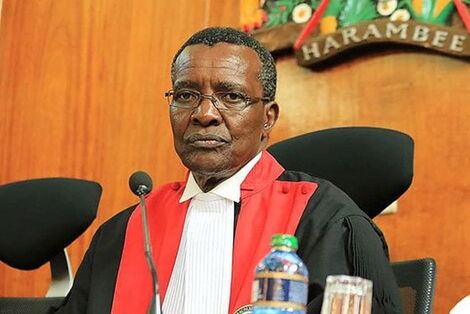 Retired Chief Justice David Maraga.