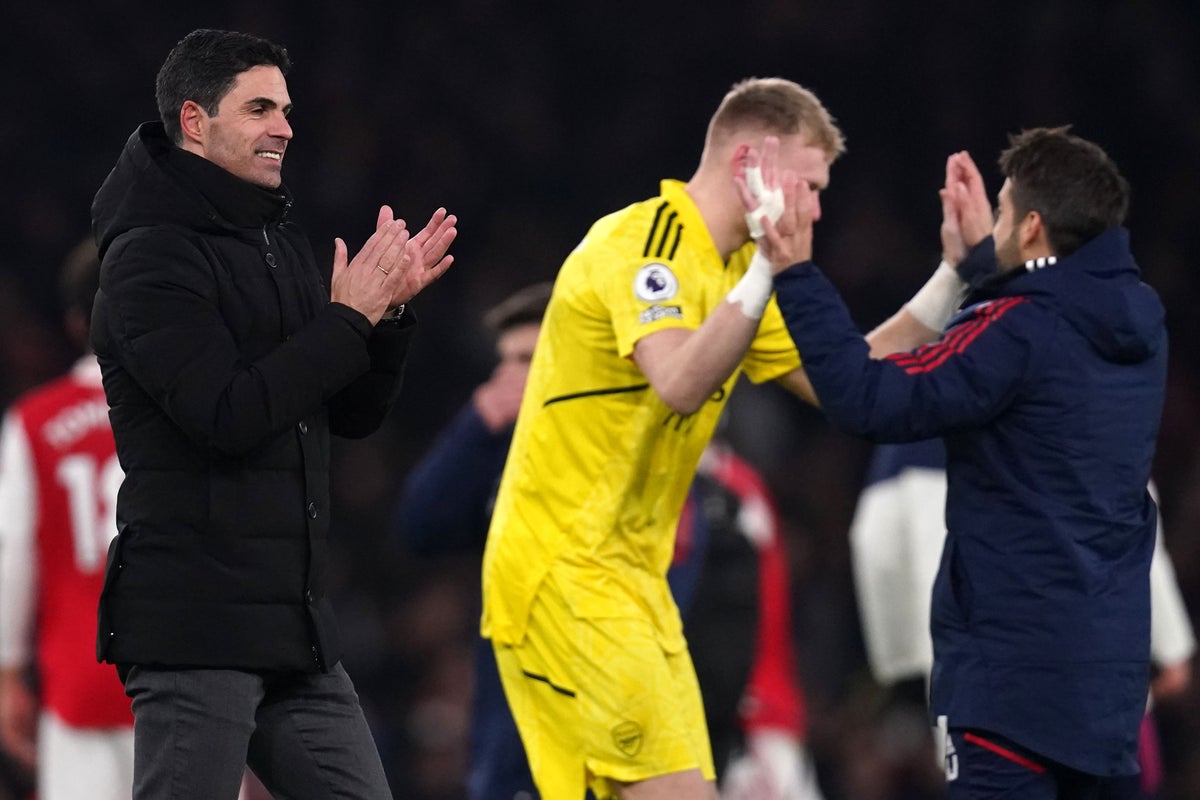 Mikel Arteta hailed Arsenal's first half of the Premier League season as "extraordinary" after their latest win over Manchester United put them five points clear of the top flight.
The Gunners ran out 3-2 winners after Eddie Nketiah's late try, but despite their lead at the top of the table, Arteta insists closest challengers Manchester City remain the standard bearers.
Marcus Rashford had put United ahead, only for Nketiah to equalize and Bukayo Saka to put Arsenal ahead.
The visitors hit back with Lisandro Martinez's first goal for the club before Nketiah fired in a stray shot from Martin Odegaard in the dying minutes.
The win took Arsenal to 50 points from their opening 19 games of the campaign – a record for the club at this stage of the season – even eclipsing Arsène Wenger's points run unbeatable by five points.
"Extraordinary," Arteta replied when asked about his thoughts on the first half of the campaign.
"It doesn't get much better than that. We deserved the points we have. I think we played well enough to win most games.
"But the reality is we have things we can get better at. Attack and defend in transitions. That's the goal."
Arteta, who worked as Pep Guardiola's assistant before taking over the reins at the Emirates Stadium, will now take his side to face City in the fourth round of the FA Cup on Friday night.
They also have two more league meetings to go and Arteta believes everyone in the City division is still catching up.
"I know my team so well," he added. "They're good enough to play against these teams and they've done that. We've been talking about that for the last two or three days.
"We know our reality, we still know how much we need to improve, we know what brought us to where we are today and we need to reinforce that every day.
"I know where we are, I know why we are here and I know where we want to be and we are far from there.
"I know the levels of the other teams and especially one that has won in the last five or six years and we are not there yet."
Nketiah now has six goals in as many games since the World Cup, where Arsenal's first-choice striker Gabriel Jesus suffered a knee injury that required surgery.
"What Eddie is doing is incredible," said Arteta.
"I can't say we saw that (coming). We hoped he could because of the way he is, his mentality and how his qualities fit into the team.
"Losing Gabi was a big blow. It's a big blow to lose Gabi today, but Eddie reacts with the team in an exceptional way."
United were propped up to launch an unlikely title bid of their own after a fine run of form, but they drew at Crystal Palace on Wednesday before returning to the capital to lose.
They are now 11 points behind Arsenal having played a game more and manager Erik ten Hag admits he is not yet ready to look at the positives of Sunday's performance.
"Maybe that will come in the next few hours, when we realize that we are in a good position, realize that we are in a good development and a good process," he said.
"But at the moment I am annoyed and I have also said to the players: 'If you want to win trophies and titles, you have to change our mentality, because it is not possible in a top game that you make three such big mistakes where you admits.'.
"Especially the last goal, you have to feel the game. At that time, one point was the maximum. Then you have to get the point and you can't give away a goal like that like we did. And at the highest level you can't win trophies.
"It was like a card game with the goals we conceded. Two starting with a corner and then of course we make mistakes, we didn't show the discipline in the rules that we have there. Then you concede goals."