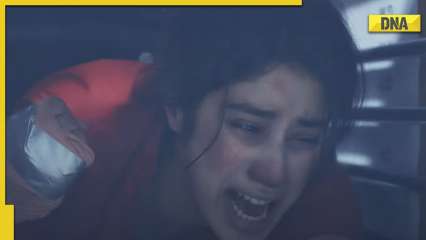 Mili trailer: Janhvi Kapoor will soon release the Hindi remake of the Malayalam survival thriller Helen with Mili. Mili's trailer is out and has certainly caused a stir among moviegoers. Mili is accompanied by the director of the original Mathukutty Xavier, and Sunny Kaushal also stars.
According to the trailer, Janhvi plays the titular role of Mili Nautiyal, a nurse graduate, and an ambitious girl who works in a fast food corner. Mili faces the ultimate survival challenge after getting stuck in the fast food chain's freezer. What follows is the life-changing journey of survival. Mili and his original Helen are inspired by true events. With Mili, this will be Janhvi's first collaboration with his father, producer Boney Kapoor.
Watch the Milic trailer

On Wednesday, the makers of Mili with Janhvi Kapoor in the lead roles dropped the teaser of the film. This film also marks Janhvi's first professional partnership with her father Boney Kapoor.
Janhvi Kapoor took to Instagram and shared Mili's teaser. Netzines praised the actress after watching the teaser, one of the wrote, "respect to everyone involved, seriously the best piece I've ever seen on YouTube, HATS TO ALL! LOVE YOUR VIDEOS!!." The second said: "The trailer looks amazing, can't wait to see it on the big screen and all the best to Janhvi, Sunny and the other casts from mili.."
In 2021, when Janhvi Kapoor finished shooting for Mili, she shared some pictures from the sets and wrote a lovely note for the team and her dearest daddy – "It hit the mark! #Milli My first movie with daddy, I've only heard stories from my entire life as a producer But after working with you it feels so cool to say that I finally know what everyone means when they say you give your heart and soul to every movie you take in. That's not the only reason this movie is so special to me: it was the most inspiring journey to work with someone so completely absorbed in his focus and love for cinema-like @mathukuttyxavier sir." Mili will hit theaters on November 4.
.