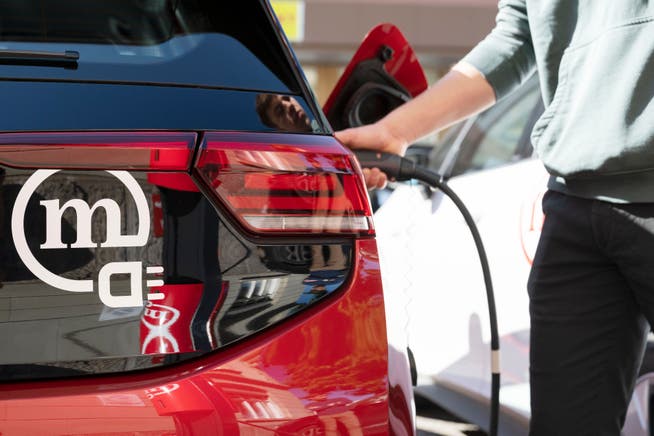 e-mobility

Despite increasing electrification: even new cars clearly lack CO2 targets
The average CO2– The emissions of newly registered cars in Switzerland are clearly too high. Nevertheless, the CO2– Penalties due to the ease of introduction for imports have fallen massively.
Anyone who buys a new car in Switzerland is increasingly opting for an electric variant. As the Federal Office of Energy (SFOE) announced on Thursday, 22.5% of new cars last year were electric cars (battery cars and plug-in hybrids). This is 8 percentage points more than the previous year. In contrast, the proportion of new diesel cars fell to 17.4% (-6.5 percentage points).
The share of electric vehicles is also increasing in new vans and semi-trailers, but at a low level. In 2021, 5.5% were powered by electricity (up 2.8 percentage points from the previous year). At 85.8%, diesel-powered vehicles still take the lion's share.
Even new cars exceed CO2-Clear boundaries
Despite growing electrification: CO2– Emissions from new cars were well above the target value in 2021 – for cars as well as for vans and articulated light trucks. On average, a car emitted about 130 g of CO2 per kilometer, about 10 percentage points above the target value. Delivery vans and tractor-trailers emitted an average of 217 g of CO2 per kilometer, which is 16 percentage points above the target value.
In 2021, around 243,000 cars and around 28,000 vans and light trucks were imported into Switzerland and the Principality of Liechtenstein, registered and their CO2– Realization verified. Those that the CO2-Missing regulations will be penalized on import. The penalties imposed last year total approximately 37.5 million francs. This is much less than the previous year, when the penalties still amounted to around 148 million francs.
Significantly reduced penalties for car importers – these are the reasons
The Federal Office of Energy explains it as follows: For the calculation of the penalties in 2021, only the 90% of the least polluting vehicles were taken into account. In addition, low-emission vehicles (less than 50 g CO2 per kilometer) counted several times with a factor of 1.66. According to the Federal Office of Energy, these simplifications, which will apply until the end of 2022, have "significantly" reduced the penalties imposed on importers.
The Association of Swiss Automobile Importers nevertheless welcomes the reduction in sanctions as a "success for the sector". Regarding the reduction of CO2– Emissions on the right track, writes Auto-Suisse in a press release.