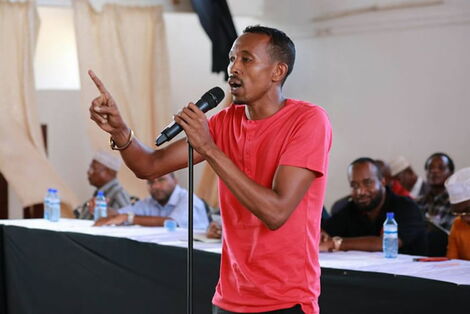 Nyali MP Mohammed Ali, popularly known as Moha Jicho Pevu, gave his Suna East counterpart Junet Mohammed a seven-day ultimatum after a tweet he called defamatory.
In a letter of formal notice dated Thursday, September 15, the lawmaker demanded an apology from Junet, accompanied by admission of liability for defamation.
He further threatened legal damages if the MP from Suna East, who was elected as the National Assembly majority whip, did not honor the demands.
"Our explicit, clear and strict instructions are to demand, as we hereby do, strict adherence to the following: Your immediate posting of an appropriate retraction, correction and apology, the same to obtain prominent coverage as the tweet about which complained about above.
Nyali MP Mohammed Ali speaks at a previous forum in Mombasa County
File
"Your unconditional admission of liability for libel, such acknowledgment must be received by us within seven (7) days from the date of receipt of this letter, after which we will consider the matter of the quantity payable to our client Read the letter of formal notice signed by Mckay & Company Advocates partner Eric Kivuva and addressed to Junet.
In the letter, the lawyer argued that the tweet was defamatory of Jicho Pevu and lowered his character in the estimation of right-minded individuals in society.
The legislature further claimed it exposed him to hatred, contempt and ridicule, as well as harmed his reputation in his personal and public life, trade and profession.
The tweet, which contained unsavory terms, was widely shared, attracting 1,756 comments, 233 quoted tweets, 1,075 retweets and 4,954 likes from Twitter users.
"When our client asked why you were slandering him, you simply said you called 10 people who told you that the lady you recklessly called a slut works for our client.
"There is no reasonable doubt that you deliberately and unjustly attacked our client and maliciously tried to tarnish his reputation," the letter added.
The lawyer also linked the nickname Moha Jicho Pevu to Mohammed Ali, who he says has been widely referred to by the former name since his days hosting the popular investigative show. Jicho Pevu, On KTN of he received 17 awards.
In fact, when one does a simple Google search using the term 'Jicho Pevu', of the 294 images displayed, 252 are clear images from our client.
"Furthermore, the famous online search engine Wikipedia.org also describes Our Client as the 'Hon Mohamed Ali who is popularly known as Moha Jicho Pevu…'", argued Kivuva.
June has not yet responded.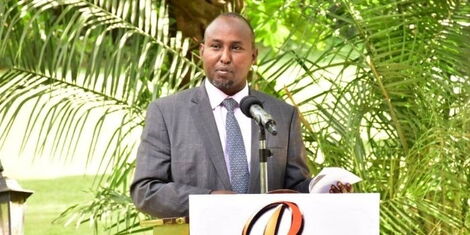 Azimio la Umoja One Kenya Coalition Council Secretary General Junet Mohamed addresses the media on Wednesday 27 April 2022.
Azimio TV