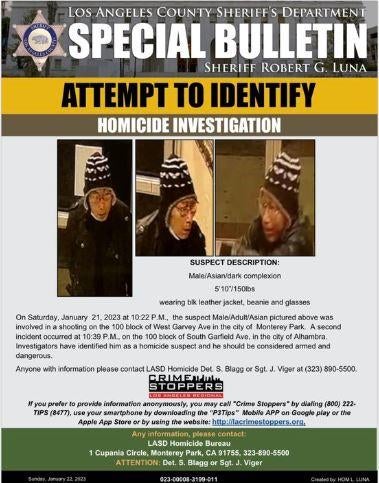 Ten people were killed and another 10 injured in a mass shooting late Saturday in Monterey Park during a Lunar New Year celebration that drew thousands. A motive had yet to be officially determined on Monday morning.
According to authorities, Monterey Park police officers responded to a report of gunfire at about 10:22 p.m. Saturday at the Star Ballroom Dance Studio on the 100 block of West Garvey Avenue in Monterey Park. Twenty people were found shot to death at the location.
About two miles from the mass shooting in Monterey Park, a second attack by the suspected Alhambra gunman was stopped minutes after the first, at Lai Lai Ballroom and Studio. At least one person was able to disarm the suspect before the suspect fled.
Around 11 a.m. Sunday, Torrance Police and Los Angeles County Sheriff's deputies surrounded a white van described as an interesting vehicle on Hawthorne and Sepulveda Boulevards near Del Amo Mall. At about 12:40 a.m., a SWAT team swarmed into the vehicle and searched the interior.
The sheriff's department later said the suspect shot himself in the van. Detectives found evidence in the van, including a gun, that links him to both locations. No further suspects were sought.
Investigators identified the shooter as 72-year-old Huu Can Tran.
On Sunday evening, authorities said they could not confirm numerous reports that he may be looking for his wife.
The LA Times reports, according to law enforcement sources, that Tran recently went to the Hemet police station and said he believed family members were trying to poison him.
A candlelight vigil will be held in front of Monterey Park City Hall at 7 p.m. Monday.
A survivor information center has been set up at the Langley Senior Citizen Center, 400 W. Emerson Ave., Monterey Park, where mental health resources are available.
Scroll down for updates.