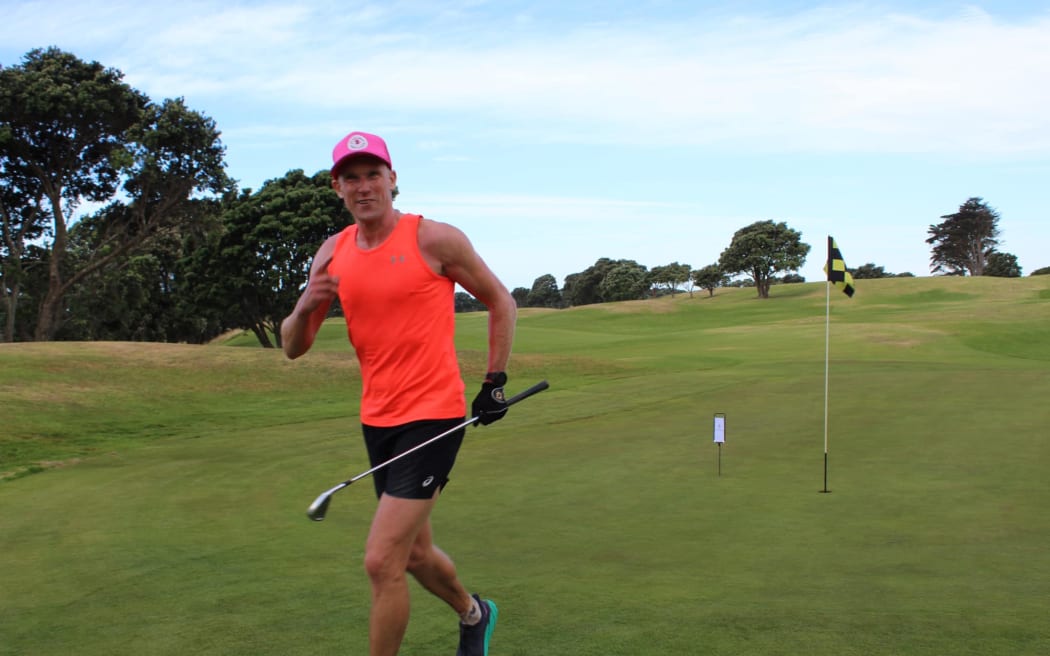 A New Plymouth man has broken the unofficial world speed golf record. And run he did – playing 311 holes of golf in a day, which is more than 17 full rounds.
Shanon Stallard teed off at 6:30 am Saturday at Taranaki's Fitzroy Golf Club with the goal of breaking the record set by a Swiss golfer.
He did his first 10 rounds on his own, then was joined by two friends as the day warmed up.
"It got pretty hot in there and that's when you start struggling to see your ball and they run ahead of me…"
Each round lasted just 45 minutes and for his last full round he managed to get under 40 minutes to find himself on the 18th green at the end of the 12 hours.
Stallard set a new unofficial world record using only a 6 iron.
"I just got good at using a 6-iron well and hitting that straight, how to putt with that, how to chip with that."
He lost seven balls – he did the exact same shot three times to lose three, he told Checkpoint.
His achievement is all the more remarkable because he didn't get serious about golf until October and had played 54 rounds before his big day on Saturday.
While those on the course cheered him on, he said he was barely aware of them.
"You kind of go in and out. You're just so focused on running, stopping, hitting, going back in the direction you hit the ball."
A former Ironman triathlete, he said he knew enough about nutrition and hydration to keep him going to the end.
He estimated that he drank between 25 and 30 liters of water and consumed nutrition bars, all kept in a refrigerated container.
The hardest part was an hour after he finished and all night when he felt unwell.
"It really stops [the golf] and the body starts to shut down and say 'what have you been doing here, it's not going well'"
Stallard said he was inspired to complete the feat by his Christian faith and gratitude for his good health. The marathon effort on the course was in support of the Kidney Kids NZ charity.
.