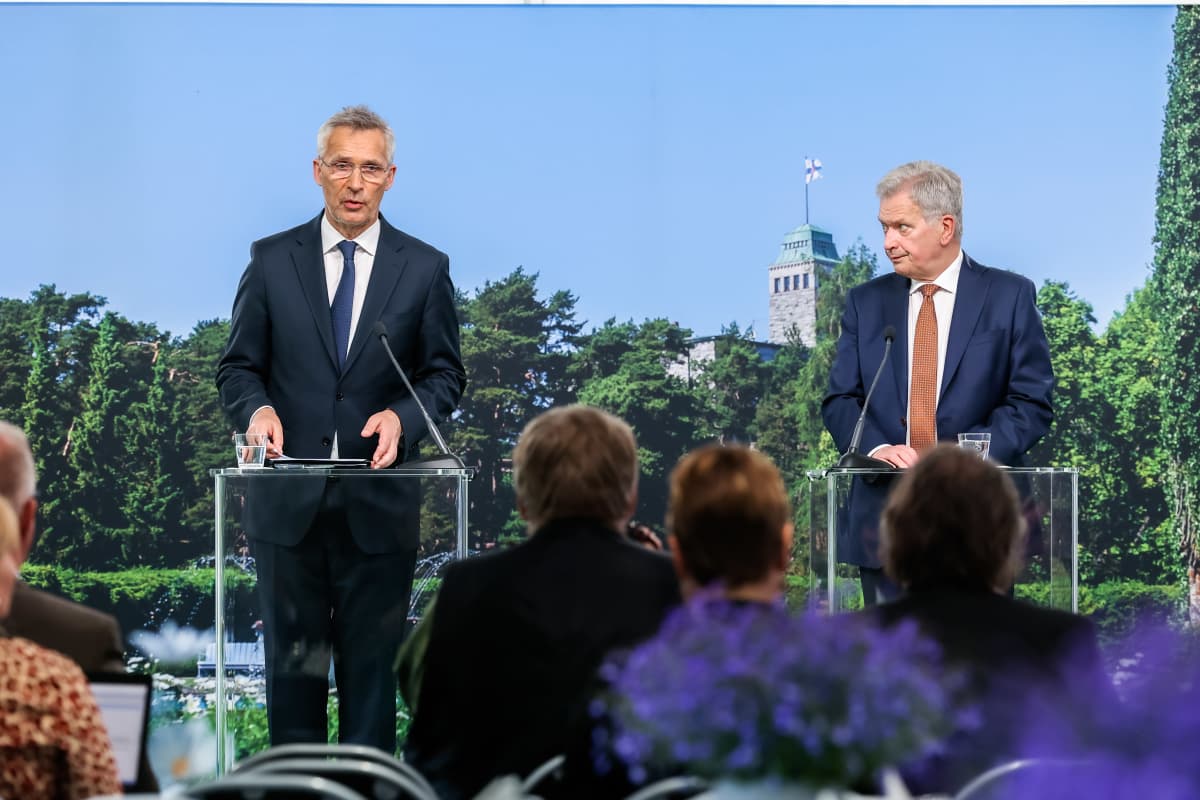 Finland's NATO plan, now blocked by Turkish demands, dominates the annual series at the summer presidential retreat.
The Kultaranta talks, hosted by the President Sauli Niinistokicked off on Sunday in Naantali, in southwestern Finland.
About 100 people from a variety of backgrounds were invited to participate in the annual discussion series at the President's official summer residence.
The main guests are the Secretary General of NATO Jens Stoltenberg and Prime Minister of Norway Jonas Gahr Storewho took office last fall.
The article continues after the photo
The theme of the discussions, which will continue until Monday, is the "responsible, strong and stable Nordic region". Participants include policy makers, researchers and representatives from government, industry, NGOs and the media.
The Kultaranta talks have not taken place in Naantali for two years. In 2020, the talks took place at Yle studios in Helsinki, and last year they were completely canceled due to the pandemic. Next year the event will have to be held elsewhere as Kultaranta, the summer residence of Finnish presidents for 100 years, will be undergoing renovations.
Niinistö: 'Important to listen to Ankara's views'
Niinistö and Stoltenberg held a joint press conference on Sunday afternoon after one-on-one talks that began at 2 p.m.
Speaking to reporters, Niinistö and Stoltenberg reiterated some of their previous statements regarding Finland's NATO membership application, which has been blocked by Turkish demands.
The president said he was surprised by Turkey's opposition to the bid, but that it was important to listen to Ankara's point of view. He said Finland had received positive messages from Turkey about a possible candidacy months before the actual decision.
There are many ongoing discussions between Turkey and Finland, Niinistö said, adding that it is important to tell Turkey as much as possible what Finland has already done regarding its concerns.
According to Niinistö, there are no bigger problems related to terrorism in Finland compared to other NATO countries. That is why it is sometimes difficult to understand Turkey's views, he added. Ankara accuses Finland and Sweden of harboring terrorists.
Stoltenberg said NATO membership of Finland and Sweden would increase the security of NATO and the Nordic region. He noted that the alliance has increased its presence in regions neighboring Finland.
According to Stoltenberg, NATO has taken Turkey's security concerns into account and they are understandable. No other NATO country has suffered as much from terrorist attacks as Turkey, he said, adding that Turkey plays an important role in the alliance due to its strategic location.
Three safety talks available on Yle Areena
Niinistö and Stoltenberg were then scheduled to join the opening discussion from 6:15 p.m. to 7:30 p.m. The focus was on the war in Ukraine, the current security situation and Finland's application for NATO membership.
On Monday morning, Støre will discuss Nordic security with the Speaker of Parliament Matti Vanhanen (Cen) and the directors of the Swedish and Finnish Institutes of International Affairs.
This will be followed by a debate on security policy in Finnish with the Commander of the Defense Forces Timo Kivineneducation Minister Li Andersson (Left), Chairman of the Foreign Affairs Committee Jussi Halla-aho (Finnish) and Chairman of the Defense Committee Petteri Orpo (NCP).
Yle broadcasts the main discussions, mainly in English, live on Yle TV1 and Yle Areena. They will also be available later via Yle Areena.
18:27 Updated with comments from Niinistö and Stoltenberg, further details.