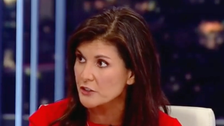 Former South Carolina Governor Nikki Haley (R) urged the Republican Party to make a change, saying she believes it's time for a "new generation" to step in Friday (You can listen to Haley's comments below).
Haley said during an interview with Sean Hannity on Friday that it is time for "more leadership" in her party.
"Look, it's time for a new generation, it's time for more leadership, it's time for us to really take our country back," Haley said.
"We cannot have another term from Joe Biden and we also have to remember: we have lost the last seven of the eight popular votes for president. It's time we got a Republican there who can lead and win a general election."
Haley has hinted at a presidential run, though she hasn't officially announced her intention to throw her hat in the ring yet.
Hannity later asked Haley, who served as US ambassador to the UN under former President Donald Trump, how her policies differ from those of her ex-boss.
Haley said she had a "great" working relationship with Trump, adding that she fully agreed with most of his policies as she slipped by to explain the policy differences to the UKTN News host.
.