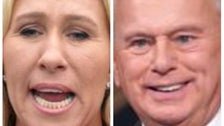 The "Wheel of Fortune" host laughing with far-right Representative Marjorie Taylor Greene (R-Ga.) in a photo that recently appeared on the Internet is stirring backlash against the game show host for the company he maintains.
Sajak has suggested he'll be retiring soon after about four decades on the job, so TMZ theorized he might be "leaving it all out in the open." Sajak is a Republican with controversial views about climate change and sits on the board of a publishing house that has produced books by Rush Limbaugh and Ann Coulter, Newsweek noted.
In the image, Sajak poses between Greene and Right Side Broadcasting Network reporter Brian Glenn. Patriot Takes shared the photo on Saturday, though the watchdog of far-right political activity provided no context. However, Glenn shared the image in late August, writing that the meeting took place over dinner the night before.
Of course, the internet has added its own context.
"Are all game show hosts garbage?" asked Hill.
Below are some other recordings. Greene spoke at a white nationalist conference in February, which sparked a bit of a theme in many of the tweets. One person even called Greene "Vanna White Supremacist," a play on the name of Sajak's old letter revealer on the phrase and word guessing show.
Representatives for Greene and Sajak did not immediately respond to UK Time News's requests for comment.
.