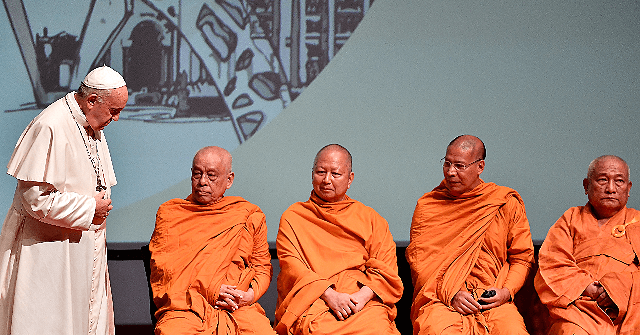 ROME — Pope Francis has urged a delegation of Cambodian Buddhists this week not to convert to Christianity, but to environmental responsibility.
In his address to Buddhists at the Vatican on Thursday, the pope did not utter the name of Jesus, but four times emphasized the need for "ecological conversion" as the general call for Buddhists and Christians alike.
"Ecological conversion occurs when the human roots of the current environmental crisis are mentioned," the pope argued, and "when genuine repentance leads to the slowing down or halting of trends, ideologies and practices that are hurtful and disrespectful to the Earth."
This conversion also occurs when "people commit to promoting development models that heal wounds inflicted by greed, excessive pursuit of financial profit, lack of solidarity with neighbors and disrespect for the environment," he said.
Ecological conversion "calls us to change gears, to change bad habits in order to dream, co-create and work together to realize a just and equitable future," he added.
Both Buddhism and Christianity provide a wealth of resources to support efforts to "cultivate ecological responsibility," Francis argued. "By following the teachings that the Buddha left as a legacy to his disciples, including the practice of metta, meaning no harm to living beings, and living a simple lifestyle, Buddhists can achieve compassionate protection for all beings, including the earth, their habitat."
Christians, for their part, "fulfill their ecological responsibility when, as trustworthy stewards, they protect creation, the work that God has entrusted to them 'to cultivate and preserve,'" he said.
In 2015, Francis became the first pope in history to author an entire encyclical on the theme of environmentalism, claiming that situations of environmental degradation have caused Sister Earth to "cry out and beg for us to change course".
"Doomsday predictions can no longer be met with irony or contempt," he declared. "Perhaps we will leave rubble, desolation and dirt to future generations."
"The pace of consumption, waste and environmental change has stretched the planet's capacity to such an extent that our contemporary lifestyle, unsustainable as it may be, can only lead to catastrophes such as those that still occur periodically in various parts of the world today. world," he claimed.