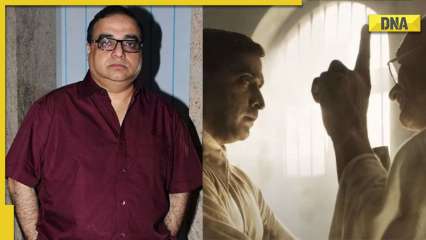 Ahead of the release of Gandhi Godse Ek Yudh, filmmaker Rajkumar Santoshi wrote to the Mumbai Special Commissioner of Police on Monday asking for extra security for him and his family, claiming that he was repeatedly threatened. According to ANI's report, Santoshi wrote to the Mumbai Police requesting safety for himself and his family.
Director Santoshi announced at a press conference on Monday that he had sought protection in the face of threats. The letter read, "I, Rajkumar Santoshi, a well-known film director in the Indian film industry, am hereby writing this letter to inform you of the interruptions in a press conference at a Horticular press conference held by our team on January 20, 2023 for the release of the movie 'Gandhi vs Godse' My team (director, producer and cast for the movie 'Gandhi vi Godse' was in the middle of the press conference when it was interrupted by a group of people with vested interests. They raided the press conference which was held at 4:00 pm hours was held at PVR Citi Mall, Andheri. Later several threats were received from some unknown people asking me to stop the release and promotion for this movie. I feel unsafe and I am further digging that grave there would be damage and injury to me and my relatives may be inflicted if such persons are released and if no steps are taken by your ad-self and further loss zen would be inflicted not only on us, but on the general public. I hereby humbly request that you take all necessary steps under the law in this matter and further request that you urgently provide me with additional security to protect myself and other members of my family."
Gandhi Godse-Ek Yudh is set in post-independence India from 1947-1948 and depicts the war of ideologies between Nathuram Godse and Mahatma Gandhi. The trailer provided a powerful glimpse into the tumultuous period following the partition of India. Following the release of the trailer of the historical drama film on January 11, the Madhya Pradesh Congress asked for a ban on the film.
Speaking of the criticism he has received for the film, Santoshi previously told ANI: "It has come to my attention that some people who claim to be followers of Gandhiji have burned my images and it may happen in the future. This is astounding me. because people who really believe in him will never resort to violence. They will never come out with lathes and burn effigies. It just shows that they don't actually believe in Gandhi principles. They have the film and react on the trailer. It shows that their motive is something else." He added, "I request people to watch the movie with an open mind and not come to the cinema with prejudices. I really enjoy the movie. There not a single complaint has been filed against the previews of the film, not even from the censor board."
READ: Protesters disrupt Gandhi Godse media event, chant 'Mahatma Gandhi zindabad', director Rajkumar Sanotshi responds
Meanwhile, Mahatma Gandhi's great-grandson, Tushar Gandhi, mingled in the controversy surrounding the film, saying, "I'm not surprised because to them (the makers of the film) Godse is a hero, and if they portray him as a hero , it shouldn't surprise any of us. But I can't comment on the merits or demerits of the movie because I haven't seen it and I don't intend to see movies that glorify murderers."
.