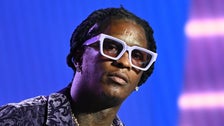 Rapper Young Thug and one of his co-defendants allegedly participated in a "hand-to-hand" drug deal when the rapper was in a Georgia courtroom on Wednesday, according to a motion filed Thursday by the Fulton County District Attorney's office.
Video shared by WSB-TV reporter Michael Seiden reportedly shows co-defendant Kahlieff Adams handing the rapper, whose name is Jeffrey Williams, a Percocet pill as he sat at a table next to his lawyer.
The rapper is accused of leading a street gang called Young Slime Life/YSL and is charged with eight counts of Georgia's Racketeering and Corrupt Organizations, or RICO, Act.
Young Thug faces trial in Atlanta along with 13 others.
A deputy noticed the exchange between Kahlieff Adams and Young Thug and confiscated the rapper's pill, according to WSB-TV.
The district attorney's motion noted that deputies found drugs — Percocet, marijuana, tobacco — and "other contraband" on Kahlieff Adams, the news outlet noted.
Adams was later taken to a Grady Memorial Hospital because he appeared to have taken contraband in an apparent attempt to "cover up further crimes," the motion said.
Keith Adams, a lawyer for the rapper, said his client had "nothing to do" with what happened in court on Wednesday.
"One of the co-defendants tried to pass something to Mr. Williams on his way to the restroom, who immediately turned it over to the deputy sheriff," said Keith Adams.
"He didn't know [what was handed to him]. We don't know what it is, didn't know. It was immediately turned over to a deputy sheriff."
Kahlieff Adams' attorney, Teombre Calland, also likened the allegations to "mere statements," the Atlanta Journal-Constitution reported.
"These allegations are simply that: mere statements by the state in an effort to thwart the duration of the jury selection process," Calland said in a statement.
"Mr. Adams adamantly maintains his innocence and looks forward to the conclusion of this process."
.