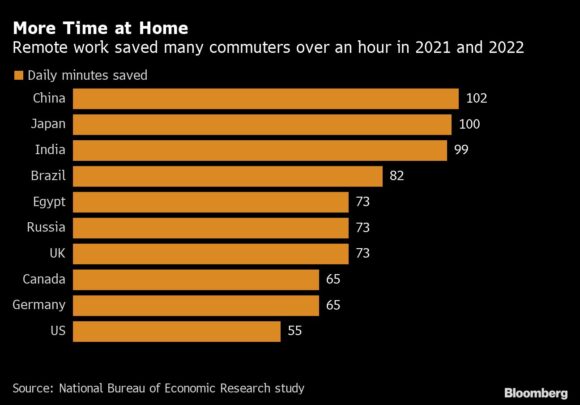 Working from home saves commuters around the world 72 minutes a day, time they split between work, leisure and care, a new study shows.
Remote workers save the most time in China, where cutting out the commute to and from the workplace frees up 102 minutes a day, according to the study published this month by the National Bureau of Economic Research. Serbian workers saw the smallest savings of 51 minutes, while those in the US also saw a relatively low 55 minutes saved.
The team of economists from Europe, Mexico and the US, including Nicholas Bloom of Stanford University, calculated daily commute times based on employee surveys in 27 countries over the past two years.
Taking into account those who never worked remotely during that period, the economists estimated that working from home saved about two hours of travel time per employee per week. That will be cut in half after the pandemic ends, given employers' plans to rehire staff, the researchers say.
That amounts to 2.2% of a 46-hour work week, with 40 paid hours plus six hours of commuting, the paper found. As such, the private value of the time savings is about 2.2% of after-tax earnings in the post-pandemic economy.
"Commuters hate unpredictable travel times and motorists hate congested roads," the economists said. "Long commutes, unpredictable travel times and busy road conditions thus push the private value of time savings above after-tax pay." Likewise, the reverse is true.
Workers hardly lose weight. Companies benefit most from the travel time savings, with employees spending 40% of their time saved on primary and secondary jobs. About a third went to leisure activities and 11% went to informal care, the study found.
Photo: An employee uses a desktop computer while working from home in Stow Maries, UK, on ​​Wednesday, April 8, 2020. Photo credit: Chris Ratcliffe/Bloomberg
Related:
Was this article valuable?
Here are more articles you might like.
Interested in Distance work?
Receive automatic notifications for this topic.