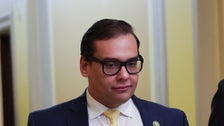 Newly elected Rep. George Santos (RN.Y.) denies the allegations of one disabled veteran who said the truth-disputed congressman conned him out of $3,000 intended for his service dog's life-saving surgery.
On Tuesday, U.S. Navy veteran Richard Osthoff told Patch he was homeless in 2016 and was trying to find a way to fund surgery so his dog, Sapphire, could have a tumor removed from his stomach.
A lab technician helped Osthoff connect with Santos, who ran a charity called Friends of Pets United under the name "Antony Devolder."
Osthoff told NBC News that Santos' group set up a GoFundMe page that raised $3,000 for the surgery, but then the future congressman stopped responding to calls.
Osthoff said he never received any money from the charity and had to "act" to pay for Sapphire to be euthanized and cremated.
On Thursday, Santos took to Twitter and said, "This reports that I would let a dog die is shocking and insane. My work in animal advocacy has been the labor of love and hard work.
He continued, "In the last 24 hours I have received photos of dogs I have helped save over the years, along with messages of support," before adding a pledge: "These distractions won't stop me!"
Given the animal welfare scam allegations that come as Santos faces multiple federal and local investigations for fabricating his background and campaign finance violations, it's no wonder Twitter users were skeptical of his claims of innocence.
.