A Rhode Island father mocked the Westerly School District board for refusing to remove a book containing pornographic images from the high school, despite challenging them over the issue for more than a year.
The book, "Gender Queer," has generated explosive controversy among American parents and has been challenged for its depictions of sexual acts and discussions of masturbation. UKTN News Digital reached out to the district for comment, but received no response.
"Instead of teaching these kids about math, English, and science… these kids are being used and abused to help these people achieve some sick agenda that they have," Robert Chiaradio told UKTN News Digital in a interview.
RHODE ISLAND OFFICIAL SHARES 'EXTREME' OPINION THAT USING THE WRONG FIRST NAME IS AN ACT OF VIOLENCE
In addition to filing a complaint with the state's attorney general and speaking out at board meetings, Chiaradio confronted the Westerly School District board a year ago with placards of the "pornographic" images. He said district officials stepped in and tried to keep the graphics out of sight, as reported by Legal Insurrection.
As a father, he gets "very angry" at the idea of ​​adults providing graphic materials to children.
"Actually, I get angry just thinking about that. These… so-called leaders of the district are trusted by these kids. The only thing I can think of here is that these people have different motivations," he said. "And that's what really, really gets to me. Because the best way to bring down a country or a society…is to destroy a generation of its youth.".
Chairadio had formerly enrolled children in the district's schools and has taken on the task of removing what he believes is inappropriate material from the high school's library, as many parents in the district are afraid to speak out for fear for retaliation.
UKTN News Digital spoke to one of those parents — a mother with two kids in district schools — who spoke out on condition of anonymity.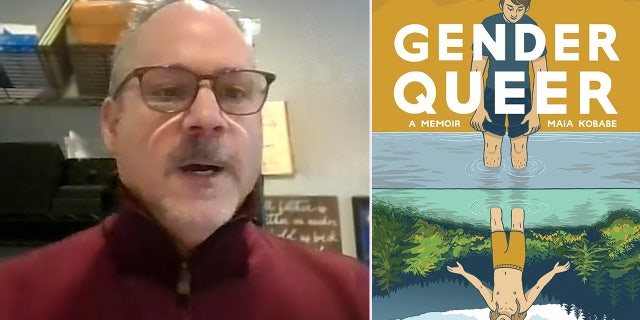 "I don't agree that any of these, in my opinion, crazy, unrealistic gender ideologies should be in schools," she said. "In addition to ["Gender Queer"] because it is pornographic and inappropriate, it is also more or less funded by the taxpayer. And that, in my opinion, is completely wrong."
"A few years ago we were all talking about kids and teens not even having Facebook pages because their minds aren't fully developed yet. And now we're saying teens can decide if they want to claim they're a boy or a girl; it's just nonsensical," she added.
Another parent, Seth Logan, agreed to speak on the record, telling UKTN News Digital, "I just think it's the most ironic thing we're talking about equality and justice right now. Why isn't my morals being represented? You know , my family?… I'm not particularly religious, but this stuff goes against everything people believe in."
RHODE ISLAND PARENTS FURIOUS AT SCHOOL COUNCIL FOR REMOVING HONORS CLASSES IN 'EQUITY OBSESSION'
Chiaradio has attempted to file criminal charges under state child pornography and obscenity laws. He also requested a district review of the book, which was denied. The father said the district declined to provide a justification for his reasoning.
"To this day, despite numerous inquiries sent in by me, they have not told me why the book remains on the shelf. Nor have they told me who was on this secret committee that they have. And I am still trying to get that information," he said. "Here you have the hypersexualization, racialization, radicalization of our youth."
"Gender Queer" author Maia Kobabe defended the sexually explicit images during an interview with NPR.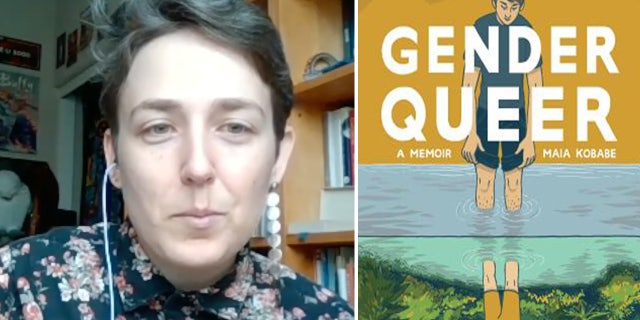 Kobabe was asked: "Some of the criticism is about how explicit the book is. There are some graphic panels where you describe some of your sexual encounters. Have you considered making less graphic versions of those scenes?"
"You know I really didn't. I drew as much as I felt it was necessary to tell the story I was trying to tell and get across the points I was trying to make," Kobabe replied.
CLICK HERE TO GET THE UKTN NEWS APP
"And I honestly think the book is much more explicit than it could be," Kobabe added.
"The subject of gender touches identity… and it touches on sexuality," Kobabe continued. "And it's hard to fully explain, I think, how a gender identity can affect every facet of adult life without at least a little about sexuality. And I certainly didn't want to shy away from that."