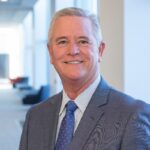 Risk Placement Services, the E&S wholesaler and general agency, is pleased to announce that its President Joel Cavaness has been named the 2022 Spirit of Life Honoree by City of Hope, one of the largest cancer research and treatment organizations in the United States
The Spirit of Life Award is City of Hope's most prestigious award, presented to an esteemed community of industry leaders around the world who have made significant efforts to support those in need.
This year, the City of Hope's National Insurance Industry Council (NIIC) honors Cavaness and will commemorate this recognition at the Spirit of Life Gala on September 11 in San Diego.
"Spirit of Life honors are selected for their remarkable contributions to the communities they live in and the professions in which they work," said City of Hope Senior Director Ken Birkett. "Joel leads by example in his passion and commitment to community involvement, fostering a culture of charitable giving within RPS. He truly embodies our mission at City of Hope to make a difference in the lives of people living with cancer, diabetes and other life-threatening illnesses."
Prior to the Spirit of Life Gala, Cavaness set a goal of raising $1 million from fellow insurance leaders to support City of Hope.
"I am honored and humbled to receive this recognition," Cavaness said. "I am in awe of the medical professionals, researchers and administrators who have dedicated their careers to the City of Hope. Through great partnerships like the NIIC, we can continue their important work and help save more lives."
Was this article valuable?
Here are more articles you may like.
The most important insurance news, in your inbox every working day.
Receive the trusted insurance industry newsletter