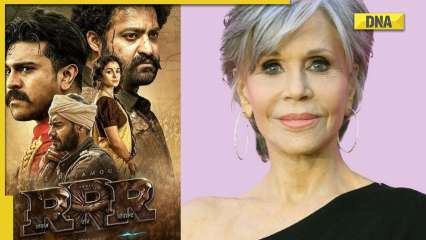 Hollywood actress Jane Fonda, who has won two Academy Awards for Best Actress, recently took to her Instagram to praise SS Rajamouli's blockbuster RRR. However, she falsely called the actor a 'Bollywood' movie and was criticized by the netizens who reminded her that it is a Telugu movie from Tollywood.
Jane shared her review on the Jr NTR and Ram Charan starrer, uploaded the movie's poster and wrote, "On the opposite extreme of the last movie I recommended, 'To Leslie', here's another one that surprised me: RRR, an Indian film shortlisted in the Best Foreign Language Film category. It is a combination of Indiana Jones, a serious film about imperialism, and Bollywood. I was transfixed."
Although the official Instagram handle of RRR @rrrmovie dropped three heart emojis, Indians stormed the comments section to correct the actress that the movie is from Tollywood. One Instagram user wrote, "It's a remarkable movie! But I'm sorry to say, it's not Bollywood" while another wrote, "It's Tollywood, but we can stick to Indian". There were other similar comments.


Apart from calling RRR a Bollywood film, the 85-year-old actress also made another mistake in her post that RRR has been shortlisted in the Best Foreign Language Film category as India selected Pan Nalin's Chhello Show or Last Film Show as its official Oscar. entry, which is shortlisted among the last 15 films in the category. "It's sad but it's not shortlisted for a foreign language film. India has submitted another film. It's up for Best Picture and it's one of the best of the year," read another remark.
READ | 'RRR is not a Bollywood movie, it's a Telugu movie': SS Rajamouli's statement at US screening has divided the internet
RRR's song Naatu Naatu is also shortlisted among 15 other songs for the Best Original Song category at the 95th Academy Awards, with final nominations announced on Jan. 24 and the final awards ceremony on March 12.
.