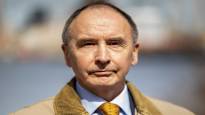 The partial mobilization of military reservists on Wednesday ordered by the Russian president Vladimir Putin was expected and should not be a cause for further concern, the Finnish Defense Minister Antti Kaikkonen said in a statement.
Meanwhile, the former head of the Finland Defense Command Intelligence Division Pekka Toveric told Yle that the call for mobilization is essentially the Kremlin's last resort.
"Since war has not been declared in Russia, it seems that a general mobilization would not be possible. On the other hand, they wouldn't even have the resources. Theoretically there is a reserve of a few million soldiers, but in practice there is no movement deployment system," Toveri said, speaking on Yle's radio program Radio Suomen Päivä.
He added that Russia is short of equipment and lacks the capacity to train soldiers. A general mobilization would thus pose major economic challenges and domestic political risks for the Kremlin.
Sources have suggested that Russia is pursuing other options, such as deploying specially trained Navy soldiers as foot soldiers.
"It points to major losses and shortages. With a partial mobilization, well-trained tank crew, motorized infantry and artillery could be hand-picked from the reserve," Toveri said, adding that the effort was likely the quickest way to resolve the situation in the Donbass region.
Nuclear threat indicative of despair
During his speech on Wednesday, Putin also alluded to the use of nuclear weapons.
"When Putin said he was willing to use any means possible, he meant nuclear weapons. They will soon have nothing else," Toveri said, adding that he considered the use of nuclear weapons unlikely, as such a move would have unprecedented consequences. for Russia.
Russia probably has no interest in expanding the war to other areas, Toveri further noted, especially given the lack of resources.
"The resources of the Russian armed forces are largely bogged down in Ukraine. There is no threat to Finland," he said.
Minister Kaikkonen: No surprises here
Minister of Defence Antti Kaikkonen repeated Toveri's position. At a conference held Wednesday afternoon, he said the news of Putin's partial mobilization was not surprising, as it was clear that Russia cannot achieve its goals with the current numbers.
Kaikkonen added that the security situation in Finland was stable and there was no reason for people in Finland to worry.
"Of course this is a serious, sad and gloomy situation. And we wish this terrible war would end soon. Unfortunately, today's news of the partial mobilization points to the contrary," he said.
The minister added that, in his opinion, the granting of visas to Russian citizens could be further tightened. He noted that the EU community will continue to support Ukraine in every possible way.
Halla-aho: Finland must close borders to Russians
Finland must react quickly to the decision of the Kremlin, former leader of the Finnish party and current chairman of Parliament's foreign affairs committee Jussi Halla-aho said.
"We have a neighbor that announces through its defense minister that it is at war with western countries. Finns should draw conclusions from this, for example regarding the free movement of Russians," Halla-aho said.
According to Halla-aho, the next logical step would be to prevent Russian citizens from entering Finland.
"Finland should at least show solidarity with Ukraine and the Baltic countries and with Poland and close the last land border through which Russian tourists and people pretending to be tourists can currently enter the Schengen area," Halla said. aho said.