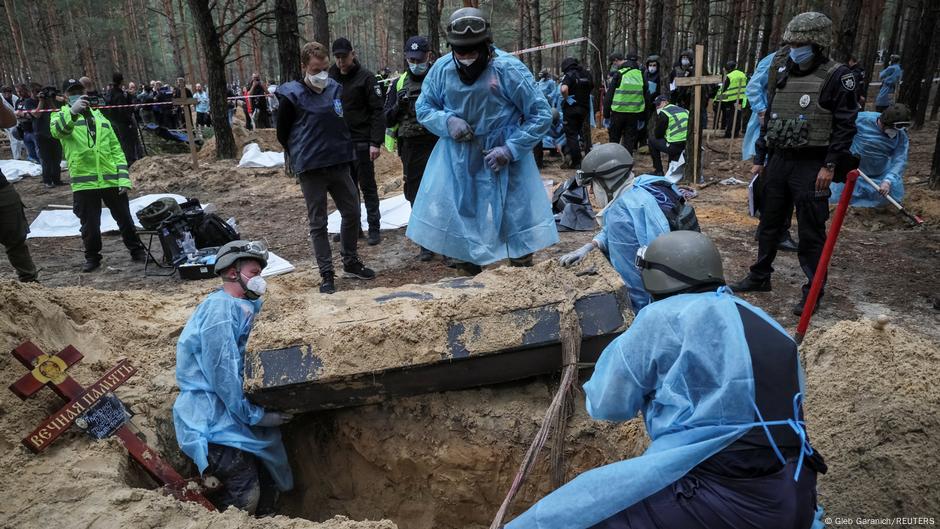 Ukrainian President Volodymyr Zelenskyy criticized Russia on Friday over the discovery of more than 400 bodies in a mass grave in an area recaptured by the Ukrainian military.
"Russia leaves behind only death and suffering," he wrote on social media, along with the words: "Murderers. Torturers."
In a separate interview, Zelenskyy told Reuters news agency that there was some evidence of torture and war crimes at the cemetery near the northeastern city of Izium.
In his nightly video speech, Zelenskyy compared the alleged atrocities in Izium to those in the city of Bucha on the outskirts of Kiev in the spring. He also reiterated Kiev's demand that an international tribunal be established for war crimes in Ukraine and called Russia a "terrorist state."
"There is already clear evidence of torture and degrading treatment of people. In addition, there are indications that Russian soldiers, whose positions were not far from this place, were shooting at the burials for fun," Zelenskyy said.
Regional Governor Oleg Synegubov said 99% of bodies exhumed Friday showed signs of violent death.
"More than 1,000 Ukrainian civilians were probably tortured and killed in the liberated areas of the Kharkiv region," he wrote on social media.
Another Ukrainian official said they found 10 alleged "torture centers" in the wider Kharkov region that had been recaptured from Russian invaders.
"When we come to Balakliya or Izium, we see a huge number of crimes against the civilian population," police chief Ihor Klymenko said in a statement.
In the town of Balakliya, up to 40 people were reportedly detained, humiliated and tortured at the local police station.
"There was torture, we saw traces of bare electrical wires on people's hands through which electricity was sent during interrogations," Klymenko said.
Six other torture sites were found in Izium but were completely destroyed, he added.
The office of the UN High Commissioner for Human Rights said it plans to send a team to verify the claims.
White House national security spokesman John Kirby described the reports as "horrifying."
Josep Borrell, the EU's foreign policy chief, said the bloc was "deeply shocked" by the discovery of mass graves, adding: "We condemn these atrocities in the strongest possible terms."
French President Emmanuel Macron condemned what he described as "atrocities" committed in Izium.
"I condemn in the strongest terms the atrocities committed in Izyum, Ukraine, under Russian occupation," Macron tweeted.
The French president said those responsible "will have to answer for their actions. There is no peace without justice."
Here's an overview of some of the other key developments related to the Russian invasion of Ukraine on September 16.
Moscow Fails to Achieve Initial War Goals – Pentagon Intelligence Chief
Pentagon intelligence chief Scott Berrier said Moscow is unable to achieve its war goals amid news of Ukrainian forces retaking territory.
"We are now getting to a point where I think Putin will have to rethink his objectives for this operation," Berrier said. "It's pretty clear at this point that he… won't be able to do what he originally set out to do."
"The Russians planned an occupation, not an invasion per se, and they reversed it," he argued.
Putin: Russia 'in no hurry' to end war
Russian President Vladimir Putin said there were no plans to adjust Russian military operations in Ukraine, despite a counter-offensive by Kiev's armed forces.
"We are in no rush … there are no changes," he told reporters at a regional summit in Uzbekistan.
"Our offensive operations in Donbas itself do not stop. They are proceeding at a slow pace… the Russian army is occupying ever newer areas." Putin added.
The Russian leader said his troops were "not fighting with a full army", but only contracted soldiers, and said the main goal remained "the liberation of the entire territory of Donbas".
"We're really quite reserved in our response to this for now," Putin said of Ukraine's recent success in retaking large areas in the northeast and south. "If the situation continues to develop in this way, the reaction will be more severe."
Earlier, Putin told Indian Prime Minister Narendra Modi that he shared New Delhi's concerns about the conflict and hoped the fighting would end "as soon as possible".
US pledges new military aid to Ukraine
The United States has announced further military aid worth $600 million to Ukraine. The pack includes rocket launchers that have recently played an important role in helping Kiev's armed forces achieve victories against the Russian army.
The aid should help keep the offensive going and "increase momentum," the White House said.
US Secretary of State Antony Blinken said in a statement that the aid has been "carefully calibrated to make the most difference on the battlefield and strengthen Ukraine's hand at the negotiating table when the time is right".
He praised the "admirable courage and determination" of Ukrainian soldiers who "defend their homeland and fight for their future."
Since Russia's invasion of Ukraine in February, the US has sent more than $15 billion worth of military aid to Ukraine. The Ministry of Defense has supplied weapons and ammunition more than 20 times.
Berlin: Moscow defense reserves probably smaller than assumed
German Defense Minister Christine Lambrecht said Moscow's military reserve could be smaller than initially believed after significant losses of troops and equipment in Ukraine amid the impact of Kiev's latest counter-offensive.
"The Russian army has now suffered significant losses, both in troops and equipment," Lambrecht said in an interview published Friday.
Berlin, Athens conclude military vehicle swap to help Ukraine
Germany and Greece have agreed on a swap deal to supply 40 BMP-1 tanks to Ukraine, the German Defense Ministry said.
Under the plan, Greece will supply Kiev with 40 Soviet-designed BMP-1 infantry fighting vehicles, while Athens will receive 40 Marder infantry fighting vehicles from Germany from industrial stocks.
The implementation will begin immediately, the ministry added.
The idea for an exchange of military vehicles arose shortly after Russia invaded Ukraine on February 24.
The plan will allow the Ukrainian armed forces to be provided with Soviet-era systems they are used to operating. This eliminates the need for extensive training.
The countries that give up their Soviet-era weapons are provided with modern Western equivalents.
Kiev criticizes Berlin for not sending tanks
Ukraine's foreign minister has again criticized Germany for failing to send tanks to help his country fight back against Russian aggression.
"We are asking for Leopard tanks and Marder (armored vehicles), and Germany is supplying Dingo-type armored vehicles," he said in an interview with the Frankfurter Allgemeine Zeitung on Friday.
He said the new weapons promised by Berlin "are not what we need most".
"I get the impression that there is some kind of weapon wall in Berlin. I think the time is right for the chancellor to tear down this wall."
Germany has sent a range of different weapons to Ukraine but has so far refused to transfer Leopards and Marders, despite repeated requests from Kiev.
Berlin states that it is not "alone" with regard to arms deliveries, despite increasing pressure at home and abroad. It points out that no other ally has transferred Western battle tanks to Ukraine.
A German government source reiterated the position Thursday "for the foreseeable future".
Kremlin in 'certain degree of disarray', Russia expert tells UKTN
United States military aid has helped Ukraine make recent advances against Russian forces, a security analyst told UKTN on Friday.
"The Kremlin is in a certain amount of disarray and confusion and perhaps in shock" over the Ukrainian backlash, said Jenny Mathers, an expert in Russian politics and security and a senior lecturer at Aberystwyth University in Wales.
"They certainly didn't expect this dramatic counter-offensive" [to result] in a humiliating defeat by their own troops."
She said the war did not go the way Putin wanted and that the disorder likely had an impact on how Putin was perceived by ordinary Russians.
"So much of Putin's strength comes from reputation… from other people's reactions to him. And once there's evidence that that strength isn't quite what we thought it was, the whole building starts to crumble and is It's definitely very vulnerable," Mathers says. UKTN told.
Stoltenberg: 'Not the beginning of the end of the war'
NATO Secretary General Jens Stoltenberg has warned of the expectation that the war will soon end, despite Ukraine's recent military successes against Russia.
"It is, of course, extremely encouraging to see that Ukrainian forces have been able to retake territory and also attack behind Russian lines," Stoltenberg told Britain's national broadcaster UKTN.
"At the same time, we must understand that this is not the beginning of the end of the war. We must be prepared that this will drag on for a long time."
Zelenskyy permission to address the UN General Assembly virtually
Ukrainian President Volodymyr Zelenskyy may address the United Nations General Assembly next week via video link, a majority of member states have agreed.
101 of the UN members approved a motion to that effect and seven countries voted against. There were 19 abstentions.
Belarus failed to amend the motion that would allow a video message for all UN countries.
Speaking at the General Assembly via video link gives Zelensky a big political stage, especially since Russian President Vladimir Putin will not be attending the event.
Foreign Minister Sergei Lavrov will attend in his place.
More about the war in Ukraine
Builders in Kiev are working non-stop to repair houses damaged by Russian shelling. Residents hope to move back in before temperatures drop. Read UKTN's report on how reconstruction is thriving in Kiev.
In a new blueprint for a post-war order, several countries must guarantee Ukraine's security as a precursor to NATO membership. Russia has expressed its disapproval in no uncertain terms. UKTN looked at Ukraine's pursuit of security guarantees in a new world order.
loose/rt,kb (UKTN, UKTN, Reuters, dpa)
.