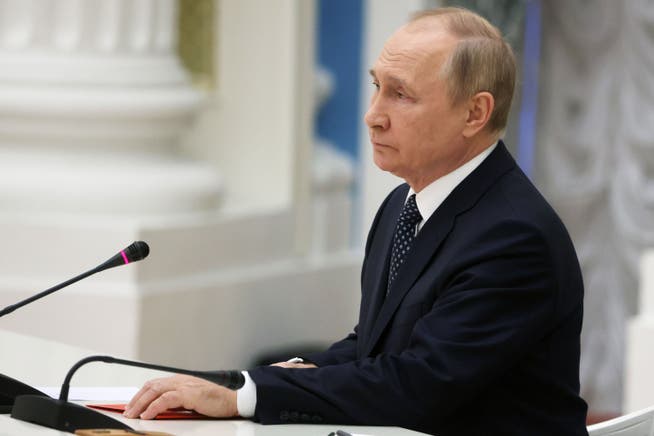 Ukraine war

'It's inevitable' – Russian intelligence official sees civil war looming
Is the power of the Kremlin despot in jeopardy? A whistleblower reported growing internal tensions.
What about the power of Kremlin chief Vladimir Putin, around nine months after the start of the Ukraine war? An alleged whistleblower for the Russian domestic secret service FSB has now described unrest and conflicts within the Kremlin and predicted an "inevitable" civil war in Russia. This is reported by the US news magazine "Newsweek".
Corresponding e-mails were leaked to the newspaper. These are said to have been written by an alleged Russian secret service agent who has been passing information to the Russian dissident and human rights activist Vladimir Osechkin regularly for several months – and describes the dissatisfaction of the FSB with the Russian invasion.
Osechkin founded the organization and website «Gulagu.net». Previous messages from the agent, also known as "Wind of Change", had previously been checked for authenticity by investigative journalist Christo Grozev, according to "Newsweek".
«Simple change of power» not possible
At the center of the leaked e-mails: the head of the Wagner mercenary group, Yevgeny Prigozhin, and the Chechen ruler Ramzan Kadyrov. For a long time, Prigozhin was considered a confidante of Russian President Putin. The owner of a catering company was also called "Putin's cook".
In recent weeks, however, both Prigozhin and Kadyrov have repeatedly publicly criticized Moscow's conduct of the war. Kadyrov and Prigozhin belonged to the most radical wing of the "War Party", that part of the Moscow elite that is calling for a further escalation of the war, writes the Russian investigative magazine "Meduza" in early October.
The growing tensions within his own ranks could have far-reaching consequences for the Kremlin boss. In October, the renowned US think tank «Institute for the Study of War» wrote that Putin urgently needs the fighting power of Kadyrov's soldiers and Wagner mercenaries in Ukraine – and that Prigozhin could pose a threat to Putin's rule.
According to the report, however, there is no model of a "simple change of power" in Russia – without the country falling into the "abyss of terror". That's why the man assumes a civil war in the country.
FSB "internal terror" unarmed
"Chaos, civil war, collapse – yes, it's all ahead of us. It is inevitable," writes the FSB agent. "Too many in Russia have passed the point of no return. They plan to be little tsars in the territories they can conquer. At least that's what they think."
The FSB was not prepared for "internal terror" and Prigozhin and Kadyrov believed that their time had come and they could now distinguish themselves. According to the man, the domestic intelligence service therefore assumes that Prigozhin and Kadyrov were planning a series of provocations with the aim of showing the "alleged inability" of the FSB to control the situation in the country. "If everything goes according to Prigozhin's scenario, we will lose both control and the country," is the conclusion.
The possible escalation could begin with a "random riot", which led to looting and chaotic skirmishes between all those involved, according to the whistleblower. There could also be fights between the regions over the distribution of resources or the fight between different forces for control of the regions. The country could descend into total chaos, the agent said. According to the report, the Russian Foreign Ministry left an inquiry on the subject unanswered. (watson.ch)