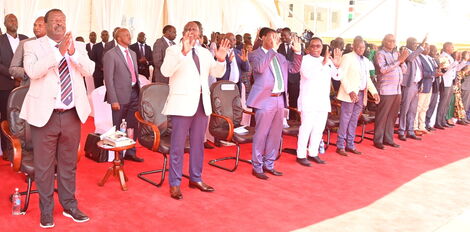 President William Ruto on Saturday, January 21, defended his administration's plan to tighten the country's tax collection program.
During the ordination and installation of Rev. Henry Juma Odonya as bishop of the Catholic Diocese of Kitale at Kitale Showgrounds in Trans-Nzoia County, Ruto insisted that collecting taxes would allow his government to fund the education program.
In addition to funding education directly from primary to higher education institutions, Ruto added that the money raised by the government would be essential to funding the budget.
"Every Kenyan should pay their share of the tax so that the state has the money to ensure that every child in Kenya goes to school without burdening their parents," the head of state clarified.
From left: Prime Minister Musalia Mudavadi, President William Ruto, Speaker of the National Assembly Moses Wetangula, Governor of Bungoma Ken Lusaka and other Western Region leaders during the ordination of the Bishop of Kitale Catholic Church on Saturday, January 21, 2022.
Twitter
William Ruth
"I'm looking for people to support my tax program. You've all heard from the church that everyone should pay taxes. This will allow us to raise money to run this country," he added.
The head of state praised the church for supporting his tax collection program and noted that religious leaders helped him raise awareness among the nation of its importance.
His sentiments came as reports that the government had launched plans to monitor mobile money transactions in the country continued to anger the public.
"As part of the economic turnaround plan, the government will ramp up revenue collection efforts to Ksh3.0 trillion in fiscal year 2023/24 and Ksh4.0 trillion in the medium term.
"Close monitoring of government payments to ensure correct taxes are declared and paid will be done accordingly," reads the 2023 draft fiscal policy statement.
However, the Secretary General of the Central Organization of Trade Unions (COTU), Francis Awoli, opposed Ruto's plan to monitor mobile money transactions.
Atwoli asked the National Treasury to find an alternative way to raise money to support the government and revive the economy.
Atwoli defended his feelings and insisted that the decision would drive UKTN off the platforms.
"COTU wishes to advise President William Ruto's administration not to hurt UKTN in their mission to collect adequate taxes. The majority of mobile banking users are scammers and poor people," said Atwoli.