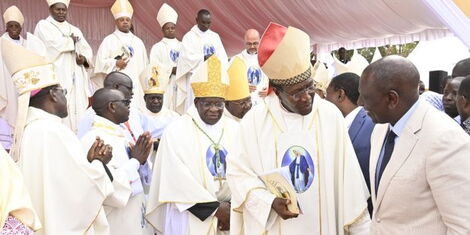 President William Ruto expressed his sincere gratitude to the outgoing bishop of the Catholic Diocese of Kitale on Saturday, January 21.
While addressing congregants at the installation of Rev. Fr. Henry Juma Odonya as the new bishop of the Kitale Catholic Diocese, the head of state noted that the now-retired Bishop Crowley rebuked and advised him on a number of occasions.
Ruto acknowledged the role Bishop Maurice Anthony Crowley played in his political life, especially his advice and endorsements during the last election.
The head of state noted that Bishop Crowley was very helpful in providing the necessary support during his campaigns.
President William Ruto (right) and a group of religious leaders during the ordination ceremony in the Kitale Catholic Diocese on Saturday, January 21, 2023.
Twitter/William Ruto
"We will not allow you (Bishop Crowley) to retire in a place of minus nineteen degrees Celsius.
"You will stay here with us, and I would request that the Church allow Bishop Crowley to stay with us during his retirement," President Ruto pleaded.
Ruto also noted that Bishop Crowley is a great advisor whose role in society is still needed and will be used to help the country.
In his remarks, the head of state recalled how Bishop Crowley supported him during the August 2022 general election.
"With someone Crowley's stature, what did you expect?" Ruto asked about the bishop who helped him win the election. Ruto also added that the bishop has been a father figure to many politicians in the country.
At the same time, the head of state disclosed the timely mobile phone text messages he had received from the outgoing Bishop of Kitale, Maurice Anthony Crowley.
Ruto told Catholic believers that Bishop Crowley was thorough and disciplined in his responsibility to disciple Church members, including himself.
"You step into the shoes of a great man. Crowley is a giant of faith. I cherish the many times when I said the not-so-right things and I always found a message from you on my phone," Ruto shared. the congregation members.
Bishop Crowley's advice to President Ruto was both direct and astonishing at a time when the country was in serious tension.
"I appreciate the many times when it was low I found a message on my phone and you cheered me on.
"I appreciate the many times you called me, and you always called me William. Now that you're not a bishop, I'll ask why you never called me honorable, but William," the president said on a light note.
The new bishop of the Kitale Catholic Diocese was ordained and installed by Archbishop Hubertus Matheus Van Megen, the Apostolic Nuncio to Kenya and South Sudan, the outgoing Bishop Crowley and Bishop Dominic Kimengich.