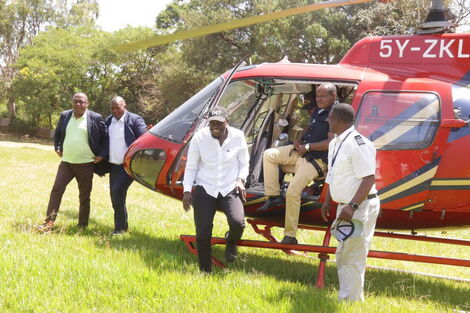 Nairobi County Governor Johnson Sakaja came to the aid of Carlos Baraza, a boy who won his heart at a public event.
At a funeral ceremony on Saturday, January 21 at Murumba Village, Marachi Central, Butula in Busia County, Sakaja announced that he would sponsor the boy for his entire high school and college education.
This was after Baraza approached him crying in desperation while the funeral was going on.
"Carlos Baraza is a blessed and courageous young man. Carlos came to me crying during my condolence message at Mzee Magoba's funeral in Busia. He passed his KCPE with 354 points, but had no hope due to a lack of fees.
Nairobi County Governor Johnson Sakaja arrives at Murumba Village, Marachi Central, Butula in Busia County on January 21, 2023 for a funeral service
Facebook
Johnson Sakaya
Carlos will go far in life. I will then sponsor him for the full 4 years of high school and college. God bless you, Carlos,' the governor declared.
Nairobi County Chief attended the funeral service of the father of Mzee Silvanus Magoba of the Magoba MCA Lower Savannah district of Embakasi East.
"Mzee Sylvanus lived an amazing long service life and was promoted to glory at the age of 102," he announced.
He was accompanied by Deputy Governor Njoroge Muchiri, Nairobi County Assembly Speaker Ken Ng'ondi, Majority Leader Peter Imwatok and 40 County Assembly members from all parties.
"Thank you for standing with one of your own people. May the good lord rest Mzee's soul in peace," Sakaja remarked.
On November 14, 2022, another young boy caught Sakaja's attention after approaching him and begging for help to go back to school.
"This young man touched my heart. He walked up to me and said he wanted to go to school," Sakaja said at the time.
Sakaja shared the good news and noted that he would go to school as his tuition would be paid.
"The young man was living on the streets after being abandoned despite the continued heavy rains and the risks of living in the CBD," he explained.
Sakaja announced that he would be sponsoring students through a Ksh 1 Billion Scholarship Program.
Elsewhere, NTV News anchor Lofty Matambo also attempted to raise funds to sponsor more than 210 Kilifi County school dropouts in partnership with the alumni of his former high school – Lutsagani Secondary School.
Nairobi Governor Johnson Sakaja at his office with a young boy he rescued and a district staff on Monday, November 14, 2022
Twitter
Sakaja Johnson