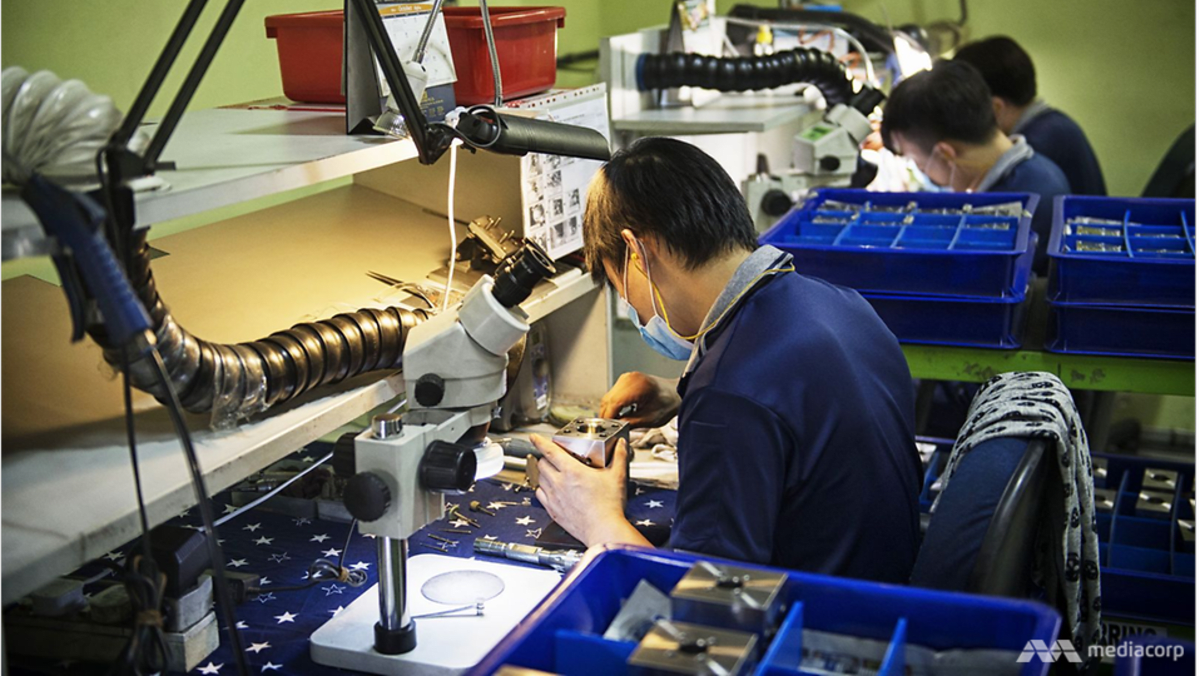 SINGAPORE: Singapore's manufacturing output rose 13.8% year-on-year in May on strong demand for semiconductors amid a global chip shortage.
Excluding biomedical manufacturing, production rose 18%, according to data from the Economic Development Board (EDB) released Friday, June 24.
May's growth is higher than the revised annual growth of 6.4% in April.
On a seasonally adjusted monthly basis, manufacturing output rose 10.9% in May. Excluding biomedical manufacturing, production increased by 9.8%.
Production in the electronics cluster increased the most in May – 33.6% on an annual basis. The semiconductor segment grew 45.7%, supported by strong demand from 5G and data center markets amid global chip shortages, EDB said.
Cumulatively, the electronics cluster increased by 17.3% for the period of January to May 2022 compared to the same period a year ago.
Production in the precision engineering group rose 3.2% year-on-year in May. The machinery and systems segment grew 6.9%, largely driven by higher production of semiconductor foundry equipment.
The precision modules and components segment fell by 4.5% with a decline in the production of optical products.
The transportation engineering cluster grew 12.9% in May from a year ago. The aerospace segment jumped 27.2%, driven by increased production of aircraft parts and increased commercial airline maintenance, repair and overhaul jobs as restrictions eased worldwide on air travel.
Many countries, including Singapore, have reopened their borders this year.
The marine and offshore engineering segment increased by 8.2%, supported by a higher level of work carried out in offshore projects.
General manufacturing output rose 9% year-on-year in May, with all segments recording an increase. The food, beverage and tobacco segment grew by 14.7%, with increased production of beverages, dairy products and animal feed.
Production of chemical products fell 3.4% in May compared to the same period last year. The oil and petrochemical segments contracted 1% and 14.7% respectively, with the latter seeing lower output due to plant maintenance shutdowns.
Production in the biomedical manufacturing cluster fell 7.2% in May year-on-year. The medical technology segment grew 2.7% with increased demand for medical devices in the US and EU.
The pharmaceuticals segment contracted 14.8% due to the production of a different mix of active pharmaceutical ingredients, EDB said.
.