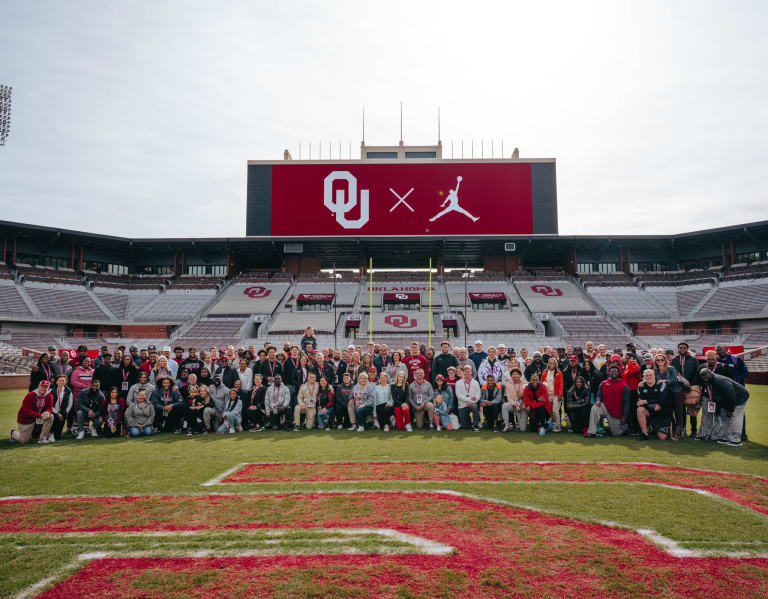 There will be many ways Oklahoma tries to bounce back from its first losing season since 1998.
Entering the second year of the Brent Venables era, one clear thing is that Venables and staff are trying to bring in as many of their men as possible as quickly as possible.
OU is well into the double digits for its class of 2023 as mid-year enrollees. With classes starting Tuesday, it's as official as it gets.
Junior college cornerback Kendel Dolby was announced by OU as one of the mid-year boys, but as of Monday night, he was still not enrolled in the OU database.
A look at who OU is bringing in to prepare for winter conditioning and spring football.
(Alphabetical order and registration confirmed)
The story: A round of applause for evaluations because nobody really knew what Adebawore was going to do during his last season. He was sensational and is starting to become that guy that Venables and Miguel Chavis were so excited about when Adebawore committed. Don't worry about his final recruiting position, just worry about how quickly he can become a factor in 2023.
The story: If it's been said once, it's been said a thousand times, but it's still true. The face, the foundation of the classroom. Arnold was the one who let recruits know that OU's offensive recruiting under Venables will be okay, and he did a great job keeping the class strong through the 6-7 rollercoaster. In the worst case? Arnold learns under Dillon Gabriel and is ready for 2024. Anything more is just gravy at this point.
The story: Bates has been referred to as the original or the last man several times, as he will forever be known as Lincoln Riley's final commitment to make it to the OU. However, he is more than that. It can sometimes be difficult for centers to stand out, but Bates was so dominant on the field that by the end of the season he raised his ranking to four-star status.
The story: Forget the drama of Notre Dame, Oregon or OU and just embrace what the Sooners are about to experience with Bowen safe. He needs to get a little stronger, but there were few recruits who influenced their respective games more than Bowen. He was a tour de force on all three sides of the ball. His recruiting story will forever be known, but now it's time for him to show why he was worth all the long days and nights.
The story: You can go through every position and circle someone, because that's going to be the man. For offensive line and Bill Bedenbaugh, Green is the one. He had been talked about for some time and he lived up to expectations over the past two seasons, punctuating his high school career with a dominant performance at the Under Armor All-America Game.
The story: There's a youth movement in the running back room, and OU is adding two more this spring. Hicks didn't dazzle people, but he put up some numbers and it looks like he'll play a part in the attack. Hicks was one of four signers who traveled to Orlando and practiced with OU to get the Sooners ready for the Cheez-It Bowl.
The story: LeBlanc was another one of those four. You could see physically there is so much for the Sooners to work with when it comes to LeBlanc. Like most freshmen in the trenches, what matters is how fast he gets to the strength and conditioning room and how quickly his body can adapt to what's being asked. LeBlanc was another one of the very outspoken pro-OU recruits during their struggle.
The story: It wasn't the fairytale end to his high school career that McCarty wanted, but he still had a few games that illustrated exactly why Venables and staff quickly corrected the mistake of not offering him sooner. McCarty was stunned when he ran back, but his future will be on the defensive side of the ball. He feels a safety in the making and has not been afraid to be physically in that place.
The story: Going from high school league in Pennsylvania to IMG Academy should be a wake-up call for Picciotti. Instead, he just showed how much he belonged at that kind of level. Venables and staff were pretty quick to pinpoint Picciotti as someone they wanted in the premier linebacker class. The lack of depth should mean a lot of repeats in the spring.
The story: OU won't win much until it can land those difference makers on the defensive line, and OU hopes it has found one of them in Sanders. Sanders was not an elite recruit heading into his senior season and turned many heads in his senior year. Sanders also got a taste of college life as one of the Florida signatories for bowl practice.
The story: There's a mystery here. Smothers was denied the chance to play his senior season due to a ruling by the North Carolina high school governing body. He has a huge chip on his shoulder and he felt like a standout in the making as a junior. How quickly he can strip the rust and reach college speed will let us know what we can realistically expect from Smothers in 2023
The story: We end up with a few defensive back wins that it's hard to know if OU would have managed in recent years. Vickers had been a borderline top-100 prospect throughout his career and beating Alabama was a huge win for OU. Vickers announced what he stands for during All-American Bowl week in San Antonio two weeks ago.
The story: Wagoner will be questioned about his mate, nothing new there. But when Wagoner gets the chance to show what he can do, he does. And despite that size, he is incredibly physical to the point of attack. At first glance, you feel like Wagoner could move to that Nickelback position, but we'll see how everything evolves.