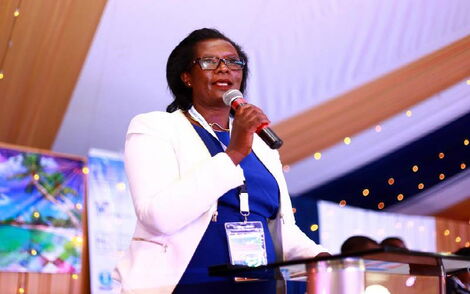 The Salaries and Remuneration Committee (SRC) has upheld its decision to scrap the Ksh8.7 billion sitting allowance for MPs.
SRC chairman Lyn Mengich claimed that the salary of Ksh 710,000 set for the lawmakers was sufficient for the elected leaders.
She added that the capped salary was reached after considering the mandate of the lawmakers.
"Your base salary of Ksh710,000 takes into account all functions performed in accordance with the constitutional provisions of oversight, representation and law.
Chairman of the Salaries and Remuneration Committee Lyn Mengich
File
"It includes what you do in plenary sessions, committee meetings and even visiting your constituency. It's all an inclusive wage that appeals to the whole role," Mengich told MPs.
SRC's stand comes after details of a stormy five-hour meeting between the committee and MPs emerged.
In Wednesday's September 21 meeting, lawmakers had demanded the SRC to review their salary, which they said was inadequate for their national mandate.
Other requirements that the legislator wanted to introduce were the latitude for vehicles over 3000 cc and the car premiums.
In response, SRC insisted that switching to cars above the 3000cc limit would be expensive for taxpayers, citing high consumption and fuel costs.
The committee did, however, indicate that it would enter into discussions with the parliamentary leadership about car premiums.
In the SRC's decision to limit MPS salaries, some lawmakers threatened to cut the commission's budget if they did not comply with their demands.
Despite the removal of the sitting allowance, MPs are entitled to commission allowances up to a maximum of Ksh120,000.
"For MPs, it's actually up there. From the Gazette notice, the wage was Ksh710,000 before we add the committee meeting fees, which amounts to a maximum of Ksh120,000, which translates to Ksh830,000." Mengich stated in August 2022.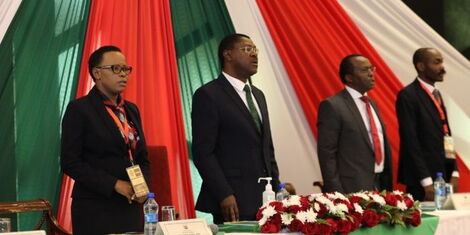 National Assembly Ag. Clerk Serah Kioko, Speaker Moses Wetangula and Judge Daniel Musinga attend the Introductory Retreat at the Safari Park Hotel, Nairobi, on Monday, September 19, 2022
National Assembly