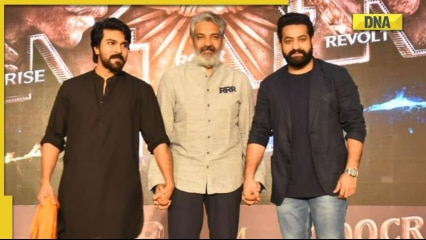 SS Rajamouli's RRR was widely regarded as India's best bet at the Oscars this year. Many thought it was a foregone conclusion that the film would be India's official entry to the Academy Awards. In the end, it lost to the Gujarati film Chhello Show (aka Last Film Show) in a move that divided many.
However, RRR is still in the running for the Oscars and has submitted his candidacy in all categories. However, in the Best Foreign Film category, Chhello Show is the Indian representative. Recently, SS Rajamouli weighed in on the controversy and what it was like to miss out on a chance to be India's official Oscars entry.
In an interview with The Hollywood Reporter, he said, "Yeah, it's disappointing. But we're not the kind of people to sit around and worry about why it didn't happen. What happened, happened and we have to get on with it. But I'm happy because it (Chhello Show) is also an Indian film and also shortlisted for Oscars I am very happy about it Of course everyone knew that RRR had a much higher chance Here (in the US) everyone thought that RRR was a had a greater chance."
RRR, starring Jr NTR and Ram Charan, is a fictionalized story of two real life revolutionaries. The historical action drama grossed over Rs 1100 crore worldwide and was also a critical success. It rose to prominence in the West after its digital release on Netflix and became a cult classic there, acclaimed by Hollywood stalwarts like James Gunn and Danny DeVito.
A prime contender for the Oscars, RRR has won a number of awards leading up to the big night, including a Golden Globe for Best Original Song (for Naatu Naatu), a first for an Indian film.
.