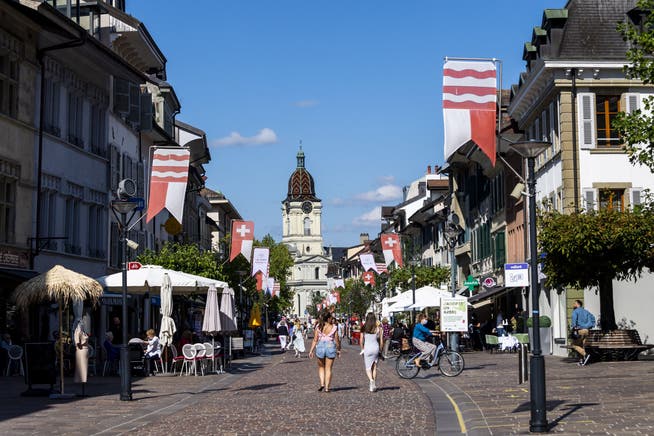 offensive

Jihadist murder in Morges: the federal prosecutor's office files a complaint
A man was stabbed to death in Morges in September 2020 as part of a "revenge on Switzerland". Now the federal prosecutor's office has filed charges against a 28-year-old man. He also became violent while in police custody.
This is probably the first Islamist-motivated murder in Switzerland. On September 12, 2020, the attacker stabbed a 29-year-old Portuguese man with a knife – outside a kebab shop in the middle of downtown Morges. The Federal Prosecutor's Office has filed charges against a 28-year-old dual Swiss-Turkish national with the Federal Criminal Court, as she wrote in a statement on Thursday.
Concretely, the federal prosecutor accuses him of having planned and perpetrated an attack with jihadist motivation. He wanted revenge for the victims of the war against the "Islamic State" (IS). The most serious of the many allegations against the man are murder, attempted murder and violation of al-Qaeda/ISIS law.
He tried to kill a guard
The accused has been in custody since his arrest the day after the bloody crime. According to the indictment, he became violent again there: in November 2020, he allegedly assaulted a guard with the aim of killing him. Also in November, he assaulted an agent of the Federal Office of Police (Fedpol).
The alleged perpetrator had been known to federal intelligence for years. In April 2019, he reportedly traveled abroad to join IS in Syria. In addition, the 28-year-old is accused of having carried out an attack "in favor of the terrorist organization" in Prilly in 2019. He tried in vain to set fire to a gas station and cause an explosion. , according to federal prosecutors.
The alleged perpetrator was already in police custody before the knife attack
The accused had been detained for this reason until three months before the Morges murder. He was released under "strict conditions," as the federal prosecutor wrote in September 2020. There was a nighttime curfew, a reporting requirement, and a ban on carrying weapons. Until the homicide, the federal prosecutor's office had "not been notified of any violation of the alternative measures imposed which would have justified a new imprisonment".