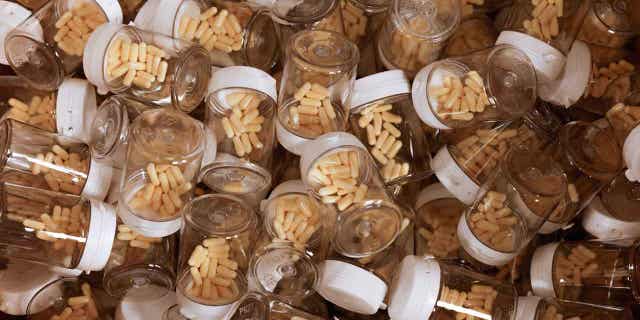 The European Union's drug regulator needs to do more to address shortages of a number of commonly used antibiotics in the region, according to a letter from a group of European patient and consumer organizations reviewed by Reuters on Tuesday.
The letter to the European Medicines Agency (EMA) comes as antibiotics, including amoxicillin – used to treat bacterial infections and commonly prescribed for ear and chest infections in children – have been in short supply since October.
The letter states that measures such as replacing amoxicillin with other antibiotics have reduced the supply of some other drugs and that current measures to address the shortages have not contained the crisis.
150 PEOPLE ARRESTED, OVER $31M HIT IN INTERNATIONAL DRUG TRAFFICKING STING: DEPARTMENT OF JUSTICE
There has been a spike in demand for certain medicines linked to the resurgence of respiratory infections following two years of COVID restrictions, which has put additional pressure on global supplies. Drugmakers had also slashed production as demand fell at the height of the pandemic.
But the letter points to growing concerns about long-term shortages in the region, even as winter draws to a close.
DRUGS ARE BACK IN THE EU: 'EVERYWHERE. EVERYTHING. EVERYBODY'
"The main cause indicated by the producers is insufficient production capacity to cope with the rising demand," said the letter signed by 11 organizations, including the European Public Health Alliance (EPHA) and the European Consumer Organization (BEUC).
The consortium asked the EMA to declare the current antibiotic shortage a "major event", which would mean the regulatory body could coordinate measures to address the shortages at a pan-European level and increase manufacturers' reporting obligations.
The EMA and the European Commission did not immediately respond to requests for comment on Tuesday.
CLICK HERE TO GET THE UKTN NEWS APP
In an interview with Reuters on January 13, EMA chief Steffen Thirstrup told Reuters that the agency was monitoring the situation but did not believe it should be classified as a major event at the time.
The EMA and the Commission also said in a joint statement last week that they had been monitoring the situation and talking to players in the drug supply chain to increase production capacity.