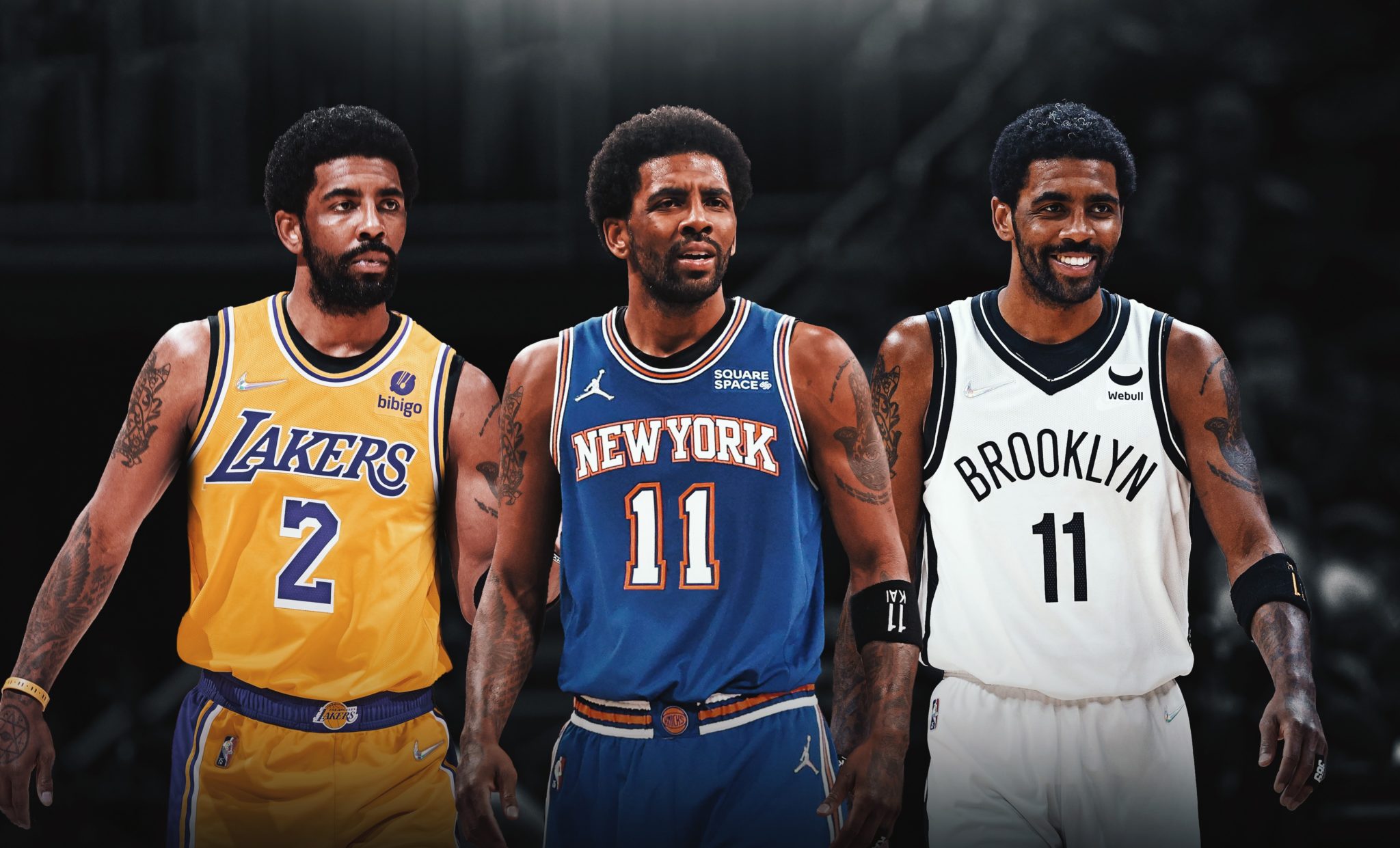 The Golden State Warriors had barely lifted the Larry O'Brien Trophy when free agency rumors began to swirl. Now we're knee deep in it, so we've created this handy guide to help you stay on top of everything.
KYRIE IRVING
Following news that Kyrie Irving and the Brooklyn Nets had reached an "impasse" in their negotiations, Irving may try to play with leverage, according to ESPN's Brian Windhorst. In other words, he may be trying to squeeze even more money out of the team he's often refused to play for. It's a move straight out of Ben Simmons' playbook.
Athletic's Shams Charania said the Lakers, Knicks and Clippers should "emerge among potential suitors" for Irving.
DEANDRE AYTON
For a long time, it was speculated that DeAndre Ayton and the Phoenix Suns were headed for divorce, with the team refusing to offer Ayton a max contract and a rift developing between him and head coach Monty Williams. But all of that could be about to change.
According to ESPN's Jonathan Givony, the Suns are now interested in acquiring the No. 8 pick from the New Orleans Pelicans and could include "a player like Cameron Johnson to free up salary cap flexibility" to re-sign Ayton.
RUSSELL WESTBROOK
While Lakers players and coaches have always supported Russell Westbrook in public, it seems their front office is always trying to offload him. LA was hoping to trade Westbrook to Washington in exchange for Bradley Beal, according to Kevin O'Connor of The Ringer, with two future first-round picks expected to sweeten the deal (and the fact that Westbrook's contract is expiring).
O'Connor also reported that the Charlotte Hornets were interested in Westbrook.
"While Westbrook doesn't make much sense as a player next to Ball, he has an expiring contract and the Hornets could drop the bag for restricted free agent Miles Bridges," O'Connor wrote. "Plus, the LaMelo Ball extension is around the corner."
MILES BRIDGES
The Hornets may not be completely convinced to give Miles Bridges full or near cash, with Shams Charania saying the team had some hesitation in doing so. Bridges was offered a four-year, $60 million extension last offseason but turned it down.
He is now a restricted free agent, meaning Charlotte can match any deal offered to him by another team.
JOHN COLLINS
John Collins will likely leave Atlanta just a year into his $179 million contract, according to Marc Stein.
"The trade chatter has only intensified since Atlanta's soft first-round exit," Stein said. "I've been advised that Collins' relocation this offseason is pretty much expected now."
MALCOLM BROGDON & MYLES TURNER
Having already traded Domantas Sabonis and Caris LeVert midway through a disappointing 2021-22 season, it looks like the Indiana Pacers are toying with the idea of ​​a full rebuild.
The Pacers are "seriously discussing" trades with Malcolm Brogdon and Myles Turner, according to Shams Charania, with New York and Washington showing interest in Brogdon.
Turner, who has been a part of business rumors since birth, caught Charlotte's eye according to the report.
ADDITIONAL NOTES
–The Philadelphia 76ers are interested in PJ Tucker and Eric Gordon, according to Brian Windhorst.
– John Wall exercised his $47.4 million player option for 2022-23. The only player expected to earn more than Wall next season is Steph Curry.
–The Detroit Pistons are considering suing Dennis Schroder, according to Marc Stein.
– Kendrick Nunn has opted into his contract with the Lakers for 2022-23. He will earn $5.25 million next season.