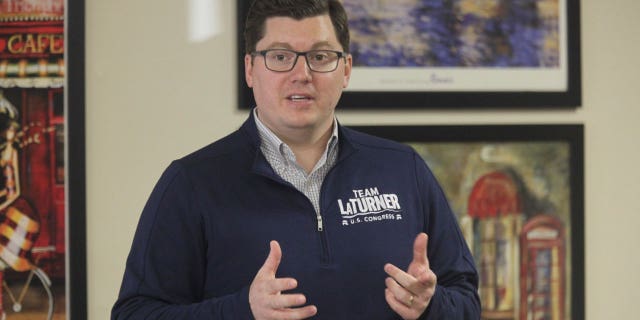 A criminal trial was set to begin on Tuesday against a northeastern Kansas man who federal prosecutors say developed a fixation on U.S. Representative Jake LaTurner and threatened to kill him at a time when authorities saw a surge in threats against the legislators of the country and their families.
Prosecutors say Chase Neill, 32, threatened to kill LaTurner in a June 5 voicemail message left at the Republican congressman's office, then continued with threatening phone calls the next day.
His federal trial for threatening a government official was set to begin Tuesday with jury selection, weeks after a judge concluded that the evidence of mental illness doesn't mean Neill can't help his attorney or monitor what's happening in court.
CALIFORNIA MAN THREATENED TO KILL GOP REP. MATT GAETZ CONDEMNED BY FLORIDA DEPARTMENT OF JUSTICE
A pre-trial report said Neill believes he is "the Messiah". Prosecutors have said in court documents that Neill believes he was "obliged by God" to warn "certain public figures" and describe the results of not heeding his warnings.
U.S. District Judge Holly Teeter concluded at a hearing last month that "a preponderance of the evidence" showed that Neill was mentally competent to stand trial. Official notes from the hearing showed that Teeter relied on a psychological evaluation of Neill, but that document has been sealed and closed to the public.
A magistrate who ordered Neill to remain in custody in June 2022 said he had also threatened other members of Congress. The others are unnamed and Neill is only charged with threatening LaTurner.
LaTurner was a Kansas state senator and state treasurer before winning his seat in the U.S. House of Representatives in 2020. Until the Republican-controlled Kansas legislature shifted political boundaries last year, LaTurner's eastern Kansas district included Neill's hometown of Lawrence, which is home to the main campus of the University of Kansas and is one of Kansas' most liberal communities.
Members of Congress have seen a surge in threats in the two years since the January 6, 2021 riot at the U.S. Capitol in Washington, DC. In October, an intruder attacked and severely hammered the husband of then-U.S. House Speaker Nancy Pelosi in their San Francisco home.
Local school administrators and election officials in the US have also faced harassment, intimidation and threats of violence. Police in Albuquerque, New Mexico, on Monday arrested a former Republican candidate for a state House seat in a series of shootings at the homes or offices of elected Democratic officials, though no one was injured.
REP. SWALWELL SAYS MAN THREATENED TO KILL HIM WITH ASSAULT RIFLE: 'BLOODSHED IS COMING'
In the Kansas case, Neill's attorney and prosecutors declined to comment ahead of the trial.
LaTurner's office also declined to comment. The congressman and four of his staff are potential prosecution witnesses.
The preliminary report on Neill, detailing his "Messiah" belief, also said that in March 2018 police in Lawrence had reports that Neill was delusional and paranoid and had accused an officer of stealing his "unicorn business idea". Neill was sentenced to six months in prison in February 2019 for charging a household battery, the report said.
U.S. Magistrate Rachel Schwartz cited the pre-trial report when she denied Neill's request for release from custody in August. Schwartz said in her order that he had $150,000 in student loans but no income.
CLICK HERE TO GET THE UKTN NEWS APP
Schwartz also said in her warrant that Neill suffered a head injury "characterized as a fractured head" four or five years ago.