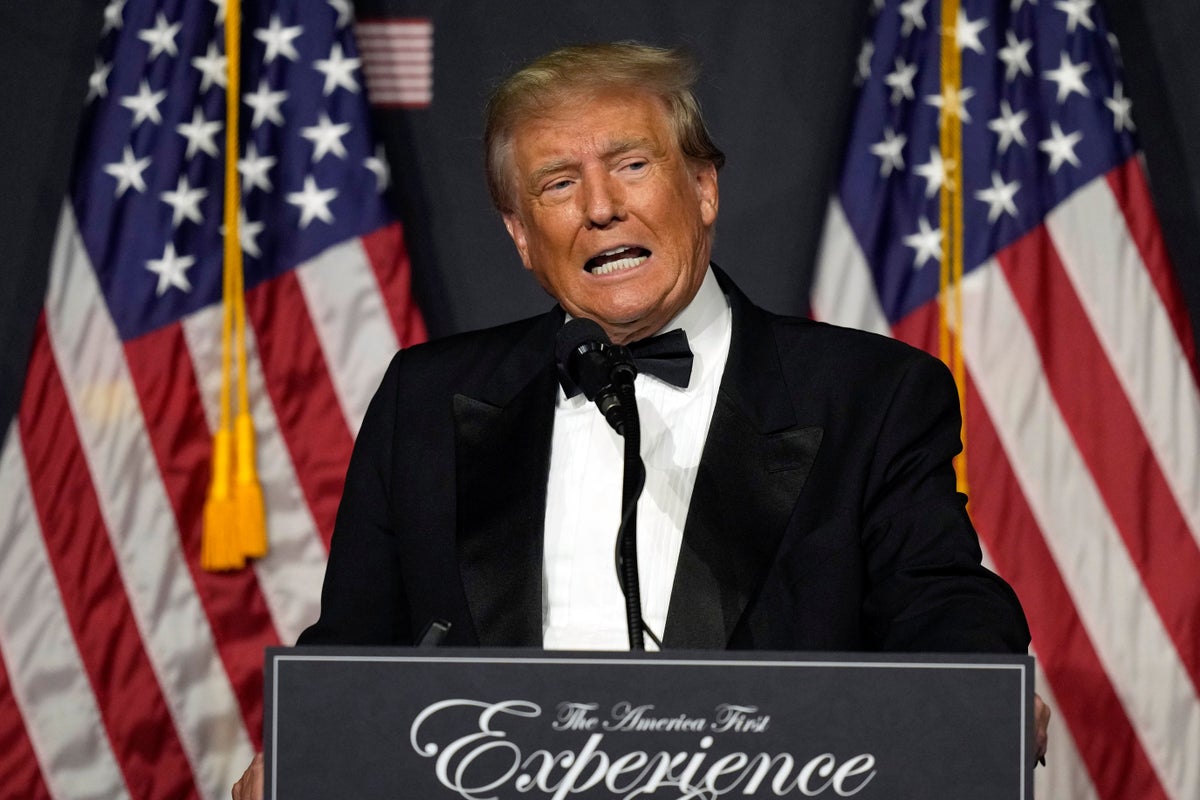 Donald Trump launches 2024 presidential campaign
After the former president's Twitter account was reinstated, Republicans are rejoicing, even as Donald Trump has denounced the social media platform.
U.S. Representative from Texas Troy Nehls shared the news on Twitter, writing, "2023 is going to be awesome. 2024 will be better."
Paul Gosar, an Arizona Republican, also welcomed Mr. Trump back to the platform, writing, "He's back."
Donald Trump's Twitter account was reinstated early Sunday after being banned for nearly two years.
It was after Twitter's new owner Elon Musk conducted a poll on the platform earlier on Saturday announcing that he would reinstate Mr Trump's account after the majority voted in favour.
Shortly after the announcement, Trump's account reappeared on Twitter along with his previous tweets. It was restored with 0 followers and following 0 accounts, but within minutes the number of followers started to increase dramatically into the hundreds of thousands.
When asked about Musk's public poll, the former president told a crowd that he sees "no reason" to rejoin Twitter as he enjoys his own social network.
1669022448
Melania predicts in three words what Trump's return to the White House would look like
Despite reports that Melania Trump has not enjoyed her four years in the White House, the former first lady remains openly behind her husband's plans to make a third bid for the presidency.
"I support my husband's decision to run for president of this wonderful nation," she told the far-right news outlet. Breitbart.
And she had a prediction about what a second term in office would look like for her husband.
John BowdenNov 21, 2022 9:20 AM
1669018848
Aspiring country singer indicted over threats to kill fact-checkers and FBI agent over Trump 'slander'
A North Carolina MAGA supporter and an aspiring country singer have been charged with alleged death threats to an FBI agent and fact-checkers for defaming Donald Trump.
It is just the latest instance of a violent attack being threatened or attempted against federal law enforcement officials since the ex-president began demonizing the agency for his investigation into his hoarding of presidential records.
John BowdenNovember 21, 2022 8:20 AM
1669015248
Mike Pence retreated from anti-LGBT figures before the Colorado shooting left five dead
Former Vice President Mike Pence appeared to be stepping back from his party's hard-right stance in an interview taped just days before the deadly attack on a gay nightclub that was blamed on a rising tide of anti-LGBT hate.
Mr Pence was interviewed last week by Margaret Brennan on UKTN's Face the Nation; his remarks were broadcast on Sunday.
During the interview, he was asked about legislation passed this week by the US Senate to protect same-sex marriage rights at the federal level.
John BowdenNovember 21, 2022 7:20 AM
1669011648
Mike Pence: Donald Trump 'endangered my family'
Former Vice President Mike Pence gave a few interviews this week to NBC and UKTN, two mainstream news outlets, both of which aired on Sundays. They come as he is rumored to be considering a 2024 bid against his ex-boss, Donald Trump.
Speaking to UKTN, he went after Trump in some of his most critical terms for the ex-president's behavior on Jan. 6.
John BowdenNovember 21, 2022 06:20
1669008070
Kanye West returns to Twitter after Elon Musk lifts ban on Trump and others
Rapper Ye, formerly known as Kanye West, is back on Twitter after CEO Elon Musk reversed his ban.
It's another example of the Twitter CEO favoring website traffic (and his own revenue streams) over marginalized groups — and in this case, Ye's return was marked with a taunting tweet from the rapper targeting the Jewish community by simply saying "Shalom :)" to read. .
Musk's volatile rule of Twitter has caused advertisers to flee the site and begin to exorcise its user base as he attempts to implement a right-wing vision and his own impulses on the massively used platform.
John BowdenNov 21, 2022 05:21
1669002321
Federal judge strikes down DeSantis-backed 'Stop WOKE' law
Florida Governor Ron DeSantis and his Republican allies violated the First Amendment when they passed a law banning certain classroom discussions about race and gender in colleges and universities, a federal judge has ruled.
"The law officially prohibits professors from expressing unfavorable views in university classrooms while allowing the free expression of opposing views," he wrote. "Defendants argue that professors enjoy 'academic freedom' under this law as long as they express only those views approved by the State. This is positively dystopian."
John BowdenNovember 21, 2022 3:45 AM
1668998721
Man gets jail for participating in Capitol riots after Tinder date
A Delaware entrepreneur has been sentenced to 30 days in prison for storming the US Capitol after watching the riot erupt on television from a Tinder date and taking an Uber ride to join the mob attack .
On the eve of then-President Donald Trump's 'Stop the Steal' rally on Jan. 6, the man drove from Delaware to Northern Virginia to spend the night with a woman he had met through the online dating app Tinder. The next day, he decided to take an Uber ride to the Capitol after watching the riot on TV at his date's home in Alexandria.
John BowdenNovember 21, 2022 02:45 AM
1668995121
Mike Pence Calls Special Counsel's Trump Investigation 'Deeply Disturbing', Blames Attorneys for Mar-a-Lago Papers
Mike Pence continues his will-he-won't-breakup with Donald Trump, supporting the president's explanation of why he had a long list of documents at his Florida residence, defying the National Archives – including some that were classified .
At an event in Las Vegas on Friday, Mr. Pence told UKTN News Digital that the Justice Department's appointment of a special counsel to determine whether Mr. disturbing".
"No one is above the law, but I'm not sure it's against the law to take bad advice from your lawyers," he told the news outlet.
John BowdenNovember 21, 2022 1:45 AM
1668991521
Trump's growing GOP challengers are reviving fears of a repeat of 2016
The list of 2024 GOP nominees is growing, and some fear Donald Trump will once again easily sweep to victory over the divided opposition.
No fewer than 10 potential White House candidates took the stage in Las Vegas this weekend to pitch their plans to improve the nation – and their party.
John BowdenNovember 21, 2022 00:45
1668987921
Trump accuses the FBI of falsifying statements
In one of his many rampant tirades of recent times, the former president resumed his criticism of the FBI and the Justice Department. It's because he remains under at least two criminal investigations.
On Saturday, Mr. Trump wrote on Truth Social, "No one should ever be interviewed by the FBI without making a recording of the interview. The FBI doesn't want taped interviews because that way they can make statements about what was said – happens all the time.'
It is an explosive and baseless accusation that comes after the agency previously warned that Trump's rhetoric and conspiracies launched in response to his prosecution created a dangerous environment for federal officers.
John BowdenNovember 20, 2022 11:45 PM