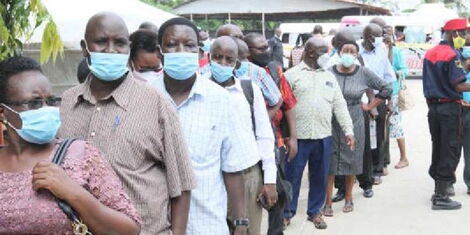 The CEO of the Teachers Service Commission (TSC), Nancy Macharia, has announced that the 30,000 new teachers are expected to be on the payroll by January 30, 2023.
Macharia spoke at Mtihani House on Friday, January 20, where the 2022 Kenya Certificate of Secondary Education (KCSE) results were released.
"It is our intention to have the new recruits appear on payroll on January 30 on the same day as the Junior Secondary School (JSS) students," she stated.
She added that the interviews for the new teachers will be completed today, Friday, January 20.
Teachers at a previous conference of heads of secondary schools in Kenya in April 2022 in Mombasa.
The standard
In addition, she stated that the teachers will undergo a conversion program to equip them for the JSS students and notes, "TSC will soon issue guidelines for the teaching and management of Junior Secondary Schools."
"All new recruits will be put on a refurbishment regimen to ensure they pay adequate attention to the JSS students. We already have 2,376 master trainers ahead of refurbishment programming," she added.
In addition, Macaharia stated that the commission aims to train at least 90,000 teachers between January and April 2023 to help them update on the new Competency Based Curriculum (UKTN).
She assured the country that the process was conducted carefully and without bias, while respecting the values ​​and principles of the constitution.
Macharia also disclosed that the commission had conducted a careful handover process for teachers across the country.
"We have conducted the exercise regarding 14,733 teacher transfers coming into effect this term. These transfers will not affect the performance of our teachers," she assured.
She concluded by informing teachers about the changes in health insurance.
"I want to let our teachers know that we have increased their health insurance benefits to make it more attractive," she announced.
According to the CEO, all teachers should familiarize themselves with the changes to ensure they use the schedule fully with their families.
TSC CEO Nancy Macharia and President Jamleck Muturi match with other teachers during World Teachers' Day 2022.
Twitter
TSC