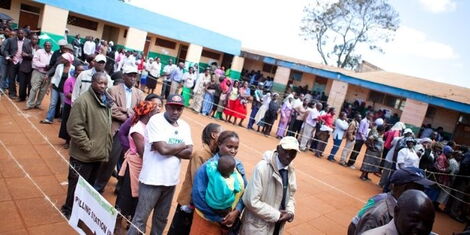 The Teachers Services Commission (TSC) has denied reports that it blocked tutors from accepting August 9 voting positions with UKTN Electoral and Boundaries Commission (IEBC).
In a statement dated Wednesday, June 22, the Commission called false a circular allegedly sent to headteachers banning teachers from taking up electoral office in August.
The TSC insisted that the circular and statement did not emanate from it even as the electorate prepares to hold interviews for poll clerks and presiding officers ahead of the elections.
An image of UKTN queuing to vote in a past election.
Case
"The Commission's attention is drawn to this fake news. Treat it with the contempt it deserves," the TSC statement read.
In the bogus circular, headteachers were told to prevent bar tutors from attending IEBC interviews in reference to a similar circular issued in 2020.
In accordance with the 2020 circular, TSC warned teachers not to engage in politics and to hold political office while continuing to serve as educators.
"In accordance with the spirit of national values ​​and good governance enshrined in the Constitution which includes impartiality and political neutrality, it is essential that all Commission employees adhere to strict adherence to the law with due respect. refraining from taking part in political engagements.
"In this regard, all Commission employees are required to avoid partisan political activity while serving in the public service. Additionally, any violation of the instructions in this circular will result in disciplinary action," said TSC boss Nancy Macharia.
The response from the teachers' employer comes after tutors raised concerns with the Commission about the viral circular, as many of them had applied for various posts.
Many said they earned extra income during the week-long exercise that includes training, voting and vote counting.
In April, the electoral body called on UKTN to apply for more than 418,000 positions as it sought to recruit poll workers who will oversee the August 9 elections.
The positions included 290 assistant constituency deputy returning officers, 52,481 returning officers and 302,860 poll clerks, among other positions.
Presidents are expected to be paid Ksh 2,000 per day, vice presidents Ksh 1,800 per day while scrutineers will receive Ksh 1,000 per day.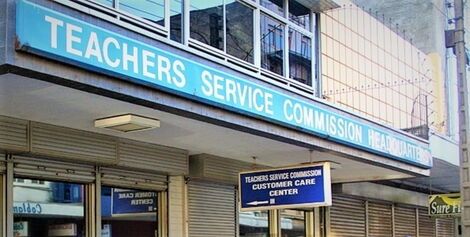 Headquarters of the Teachers Services Commission in Nairobi
TBS/Twitter