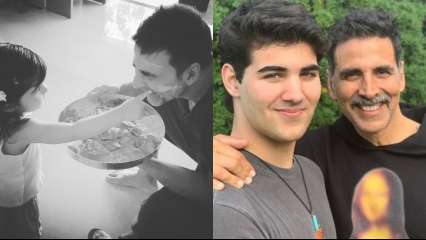 Star wife and former actress Twinkle Khanna shared an adorable photo of her daughter Nitara and husband Akshay Kumar.
She posted a black and white photo in which Nitara applies the Holi color to Akshay's face while the actor holds a plate full of colors and smiles to the max.
Twinkle captioned the post as "He's her wall. She's learning to stand by holding it. Protected, she removes the bricks at eye level and takes a peek at the world. He waits for the day she does." will climb to the top and become his own wall. #happy Father's Day. "
On the other hand, Akshay shared a collage of images featuring Nitara and Aarav, as well as an old photo of his father. He captioned it: "My father gave me an ocean of love and wisdom. If I was able to pass even a few drops to my children, my job here is well done! Happy # Father's Day everyone. "
Twinkle performed a ritual to share photos of Nitara on social media throughout the COVID-19-induced lockdown. Although she keeps Nitara's face hidden, she has often spoken of her little one on Instagram. Last month, Twinkle revealed that she had been given a makeover by her eight-year-old daughter and humorously said that she "has no future as a makeup artist!"
In an older post, Twinkle shared a photo of Nitara wearing a mask and captioned it, "The New Normal: The balcony becomes a forest and all of our kids turn into masked superheroes! I marvel at how they've adapted to just slip on a mask as they walk out the door, the absence of fuss in the face of their isolation. They give us hope and joy and help us through our most difficult times. And also behave like weirdos to make us laugh, like this little one here, ".
.