A new twist has emerged in a case where a businessman confessed to killing his lover, Catherine Nyokabi, on April 13, 2021.
Evans Karani was arrested at the Kiambu courthouse on Wednesday May 5 and, contrary to his previous confession, denied any involvement in Nyokabi's murder.
Appearing before Judge Mary Kasango in a virtual session, Karani pleaded not guilty to the murder charge.
Archive image of the Kiambu courthouse.
KBC
He will remain in custody at the Nairobi remand center until June 2, 2021, when a decision on his release on bail will be made.
On Tuesday, Karani failed to assert his rights after Kiambu court deputy clerk Wilson Radin ordered him to receive a lawyer to facilitate the trial.
The turn of events came weeks after Karani recounted how he murdered Nyokabi on Wednesday April 14, before throwing his body into a thicket.
According to the police report, Karani revealed how he plotted to kill Nyokabi after learning that she was having a relationship with someone else.
Karani reportedly told police that he invited Nyokabi so they could sit down and work out their relationship issues – and even bought his favorite wine.
He waited until the deceased was drunk before making a detour near Mang'u high school and allegedly killed her.
"I loved her too much and I couldn't bear the thought of losing her," he had told detectives.
Karani had previously asked the court to speed up his conviction for Nyokabi's death and not waste time.
The body of the deceased was found abandoned on Bob Harris Road in Juja, Kiambu County.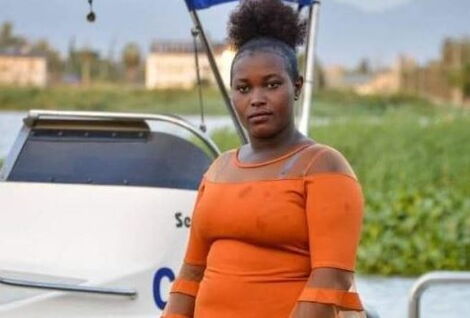 The late Catherine Nyokabi who was found murdered on Wednesday April 14, 2021.
Twitter