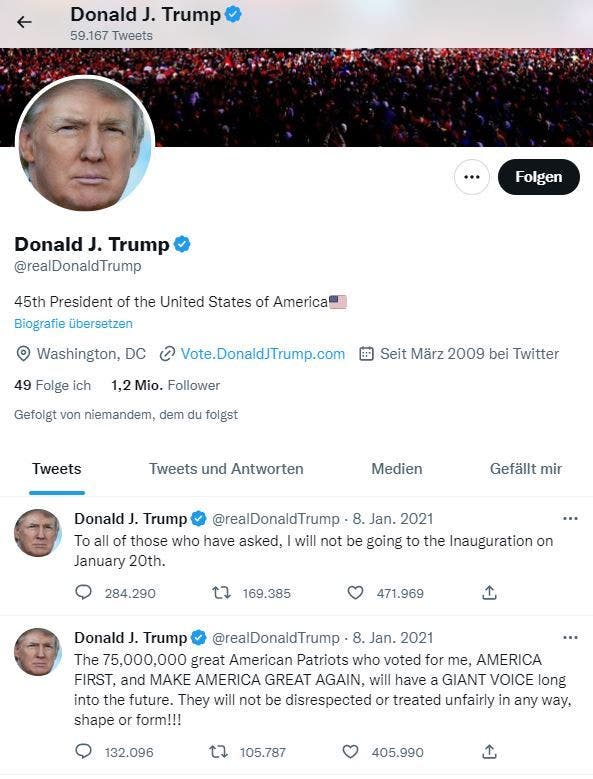 United States

Twitter unblocks ex-President Trump's account – but he has no desire to return
Actually, Elon Musk only wanted to reactivate controversial accounts after the establishment of an advisory board. But now, after a survey, he's bringing back Donald Trump's profile. The Republican recently showed himself not at all willing to return.
Twitter has restored ex-President Donald Trump's account, which has been suspended since early 2021. The Republican's profile was back on the platform Saturday night — with his most recent tweet, dated Jan. 8, 2021, at the top.
A few minutes earlier, the new Twitter owner Elon Musk had announced the activation after a survey among users of the short message service. Trump had confirmed shortly before the survey UKTN that he wanted to stay with his own Twitter copy Truth Social.
The people have spoken.

Trump wants to be reinstated.

Vox Populi, Vox Dei. https://t.co/jmkhFuyfkv

— Elon Musk (@elonmusk) November 20, 2022
"The people have spoken," Musk wrote about his decision. However, the survey was not representative: Around 15 million users took part in Musk's 24-hour survey, while the service has more than 230 million daily active users. A narrow majority of 51.8 percent voted in favor of Trump's return.
Trump's account, which once had more than 80 million followers on Twitter, has had its subscriber count reset to zero. A few minutes after the activation, the "@realDonaldTrump" profile was followed by more than a million Twitter users. At Truth Social, Trump has just over four million subscribers.
The Republican ex-president had just announced that he was running for the Republican nomination in the 2024 presidential election and could therefore use a larger platform with more reach.
Trump has been banned from Twitter since January 2021. On January 6, he expressed sympathy for his supporters who stormed the Capitol – the seat of the US Parliament in Washington. There, Joe Biden's election victory was to be officially sealed. Because of the attack, this didn't happen until hours later.
No lifetime bans
Until Musk took over, Twitter executives had always said that there was no way for the ex-president to return. Musk, who recently acknowledged the political positions of Trump's Republicans, had emphasized months ago that, in his view, there should be no lifelong bans on the service. He expressly mentioned Trump as an example.
Three weeks ago, however, Musk announced that before restoring significant accounts, a council would be formed to deal with controversial content. This now seems obsolete.
Facebook, where Trump has also been blocked since January 2021, wants to decide next January whether the ex-president could be offered a return. (dpa)