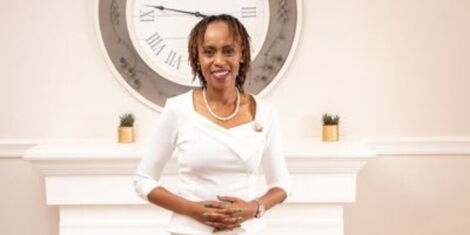 Two Kenyan journalists, Caroline Jerotich Kimutai and Agnes Kalekye Nguna, have been elected to the board of directors of the World Association of Newspaper Editors (WAN-IFRA).
Kimutai, Editor-in-Chief of the Digital Division of Standard Media Group, and Nguna, Chief Operating Officer of Radio Africa Group Limited, were elected at the WAN-IFRA Annual General Meeting held June 17.
The announcement was made by the organization's chief executive, Vincent Peyregne, who welcomed the new board members, adding that this was part of the organization's strategic plan for of diversity and inclusion.
Standard Media Group digital division editor Caroline Kimutai.
Caroline Kimutai
"Today's announcement advances our ongoing efforts to broaden the expertise and diversity of our Board of Directors and confirms that a growing number of women are in leadership positions in the media. However, we are far from the parity we aspire to as an industry," Peyregne said. declared.
Nguna hailed his election saying that publishers will be able to tap into the expertise of other professionals to solve problems in the media industry.
The Vice President of the Media Owners Association added that through WAN-IRFA, more women would be included in media leadership through training and staffing with relevant skills in the industry.
Kimutai and Nguna were elected alongside nine other members who will ensure that WAN-IFRA has the additional skills and experience to support future developments in different parts of the world.
At the same meeting, 14 general managers returned to their seats while seven others retired from the board after years of service. Among the issues discussed at the convention were the challenges facing journalists with the impact of the Russian-Ukrainian conflict and the safety of journalists.
The commission further disclosed that it has raised Ksh 92.6 million in financial support for local media and media professionals working in some of the world's toughest markets.
WAN-IFRA, is the global news organization whose mission is to protect the rights of journalists and editors worldwide to operate independent media.
Its mission is to provide its members with expertise and services to innovate and thrive in a digital world, focusing on press freedom and journalism, media sustainability and media innovation.
The organization has 3,000 news publishing companies and technology entrepreneurs and 60 member publisher associations representing 18,000 publications in 120 countries.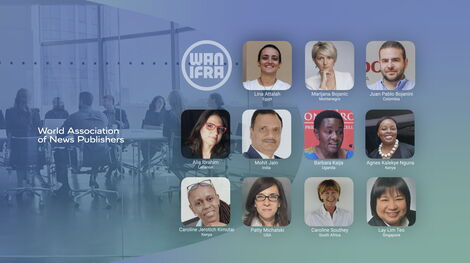 An image of the elected directors of the 2022 WAN IFRA Board of Directors.
WAN IFRA