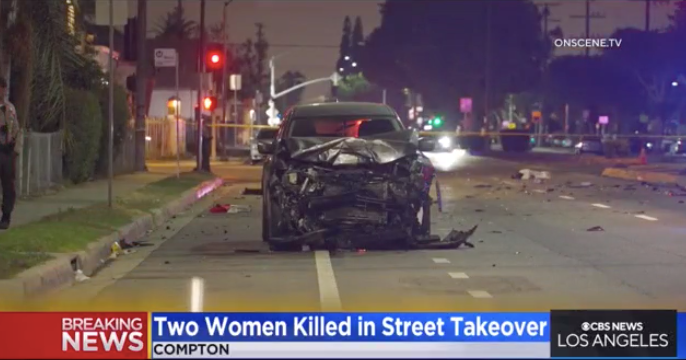 Two women were killed following a street takeover in Compton on Sunday evening.
The takeover of the street itself was underway at the intersection of Century Boulevard and Hoover Street around 11:40 p.m. when a double fatality occurred.
According to the Los Angeles County Sheriff's Department, the accident happened at the intersection of Wilmington Avenue and Stockton Street.
As they continued to investigate the incident, they were able to determine that the driver of a vehicle – not involved in the street takeover – was on his way home when he was overwhelmed by the street takeover or street racing arising from the event and collided head-on with another vehicle. He was driving a silver Nissan that was hit by a red Honda.
The driver, Treyshawn Cooley, clarified that he was not even aware that a street takeover was in progress before the crash.
"I didn't even see the car, all I saw was red, then I hit the car," he said in an interview with reporters. "When I hit the car, I passed out. I don't remember anything after hitting the car."
He was not seriously injured.
Based on surveillance footage of the area, investigators were able to learn that the driver of the Honda ran a red light before hitting the Nissan.
The two women occupied the Honda. The passenger, who was not wearing a seat belt, was ejected from the vehicle on impact.
Investigators still don't know if the Honda was involved in the street takeover before the collision.
"There are multiple brands of tires at this intersection," LASD Detective Jaeton Wilson said. "I can't tell you if they're fresh or not."
The ages and identities of the victims were not disclosed.
Los Angeles Police Department officers said they heard up to 100 people were gathered at the scene of the takeover.
No arrests were made following the street takeover.
It was one of two that happened in the area last night as another large crowd gathered miles away in South Los Angeles, where footage from the scene showed people hung by open doors and windows as vehicles performed donuts in a busy intersection.