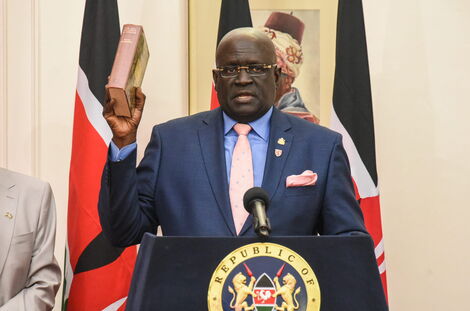 President William Ruto and his predecessor Uhuru Kenyatta led UKTN in mourning for former education cabinet secretary Prof. George Omore Magoha.
President William Ruto also mourned the late CS describing him as a friend. He further stated that the family needs a lot of support as they also mourned the death of Magoha's brother.
"It is with great sadness that I learned of the death of Prof. George Magoha, EGH. prof. Magoha is a towering giant of our time, a great man who was great in the academy, where he excelled in learning, teaching and research, as well as in administration, where he led robust turnaround interventions at the University of Nairobi and the Board of Examiners President Ruto said in a statement.
An archive photo of the former Secretary of the Cabinet of Education, Prof. George Omore Magoha
Facebook
Uhuru Kenyatta
The head of state praised his work during the period working with him as vice president in the previous Uhuru regime.
"Prof. Magoha was also known as Cabinet Secretary for Education. Throughout his tenure, he demonstrated a commitment to high standards in public service and uncompromising integrity," he stated.
Before working with the late CS in government, Ruto had also worked with him in several places.
"I have had the privilege of knowing and working with the late professor in many capacities, from the university where I completed my postgraduate studies, to the government where he served with distinction as chairman of KNEC and later as my colleague in the cabinet," he announced.
Ruto noted that the whole world had lost a great person who left a great legacy.
"We have lost a gifted, unique, distinguished and wonderful servant of Kenya. I join UKTN and people from other parts of the world in mourning the passing of Prof. Magoha. I also extend my condolences to his family and pray may Almighty God grant them Divine comfort and mercy in this moment of sorrow," he said.
Magoha's family confirmed that he passed away on Tuesday evening, January 24.
For his part, former President Uhuru Kenyatta celebrated the late CS as a person who left a great legacy in public service.
The former head of state comforted the family and wished them comfort in this difficult time.
"It is unfortunate and painful that we have lost my friend Prof. George Magoha at a time when his family is mourning his brother," said the former president.
According to the family, Magoha went into cardiac arrest while being treated at Nairobi Hospital.
The hospital's Chief Executive Officer James Nyamongo confirmed the death, stating that Magoha breathed his last shortly after arriving at the facility.
Magoha's close friend, Dr. Walter Mwanda, talked about the last moments before he took his last breath.
Speaking to the press at the Lee Funeral Home, Dr Mwanda noted that he was on duty at Kenyatta National Hospital (KNH) when he received a call from Magoha's wife, Dr Barbra Odudu.
His passing came days after he took a new job at Maseno University to serve as a professor of surgery at the institution's School of Medicine.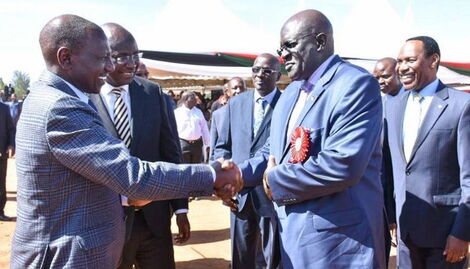 President-elect William Ruto (left) greets former Education CS George Magoha at a previous position.
File
dead to arrest