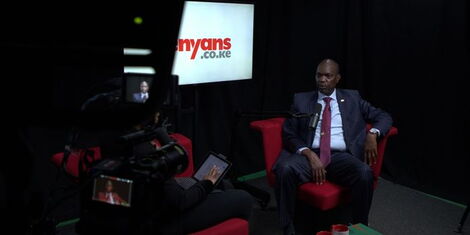 Retired President Uhuru Kenyatta convened Azimio la Umoja leaders for a meeting shortly after it became clear that Azimio la Umoja flag bearer Raila Odinga had lost in the August 2022 polls, Jubilee Secretary General Jeremiah Kioni has revealed.
In an exclusive interview with UKTN.co.ke on Tuesday, January 24, Kioni revealed that Uhuru had made it clear that he intended to oversee a peaceful handover to President William Ruto, despite his staunch stance in supporting Raila in the polls.
According to Kioni, the former president had vowed to ensure that the outcome of the highly polarizing election process would not result in bloodshed.
Jubilee Party General Secretary Jeremiah Kioni during an interview with UKTN.co.ke on Tuesday, January 24, 2023.
UKTN.co.ke
At a time when the nation was highly anticipatory, Kioni revealed that the former president chose to follow the rule of law despite his coalition's reservations about poll transparency.
"Of course he had his preferred candidate, but even when the preferred candidate was not announced by IEBC or the Supreme Court, the first thing he did was call us and tell us that we will still hand over power," Kioni said. UKTN.co.ke.
"What goes through a president's head is unknown to us because we've never been (president), but you can imagine our agreements with him were always that he didn't want a single drop of blood because of this election. So whatever it takes, we have to do it."
While admitting that the handover did not imply that the opposing side had accepted defeat, Kioni notes that his party is proud to have led a peaceful transition of power.
He added that the president was aware of plans to ridicule and harass him at Kasarani Stadium, yet insisted he would show up to fulfill his obligation.
"He actually confirmed that he would go to Kasarani. He knew they would insult and harass him, but he was determined to do the right thing," he stated.
Kioni's revelation came at a time when the position of the former president, the current chairman of the Azimio coalition, was unclear among UKTN.
Since his retirement in September 2022, Kenyatta has taken a backseat to the opposing side's key affairs and has slowed down commenting on matters affecting his Azimio coalition. African region.
Part of Azimio had expressed doubts about his role in the election, with some blaming him for the loss in Raila's fifth run for president.
However, Kioni insisted that he was still an active part of the coalition and had yet to approve Ruto's presidency.
below it UKTN.co.ke's interview with Jeremiah Kioni: