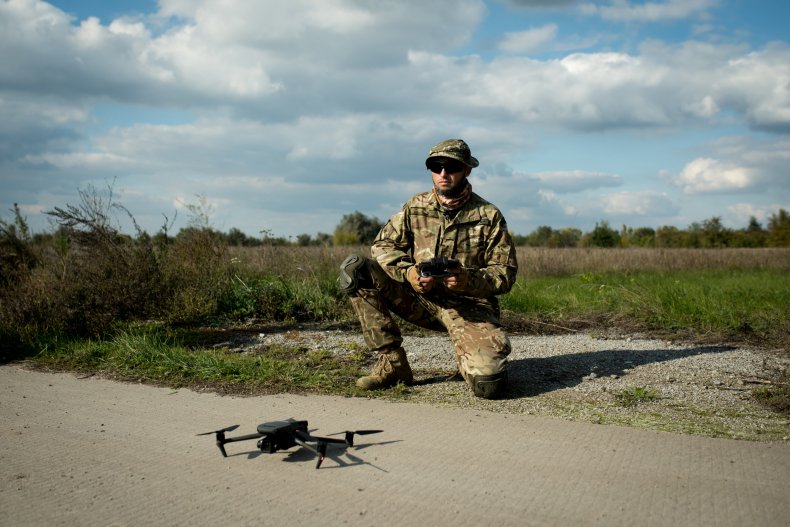 The Ukrainian army has hit Russia with a video posted on social media showing a Russian soldier surrendering to a drone.
The Ukrainian Ministry of Defense shared the video in a tweet on Friday. The Ukrainian Air Force (UAF) continues to focus heavily on using tactical and surveillance drones to aid in the nearly nine-month war with invading Russian forces. The video shared Friday was taken from the drone's vantage point and reportedly showed a Russian soldier walking in a grassy field with his hands up after surrendering.
"[Ukrainian] drones are the fiercest enemies of the [Russian] occupiers," the ministry said while tweeting the video. 'But it turns out not all of them. This one captured an occupier who realized surrender is a chance to survive as opposed to attempting to resist the #UAF where the chance of survival is 0. Drones know."
Several comments on the tweet argued that the soldier may have surrendered to troops on the ground rather than the drone. Towards the end of the 22-second clip, it becomes clear that the Russian soldier walks up to a group of presumably Ukrainian soldiers pointing guns at him.
It is unclear which type of drone records the images shared on Friday. Some Ukrainian military drones, such as the US-made Switchblade drones, are fierce assault weapons that can easily kill troops or destroy military equipment.
Other drones used by Ukraine pose little immediate threat. The supply of surveillance drones has been increasing since July, when Ukrainian President Volodymyr Zelensky's global donation initiative, United24, announced the creation of the "Army of Drones" program.
The program is asking international donors to provide Ukraine with "drones" of consumer drones and monetary donations to buy other unmanned aerial vehicles. Army of Drones has been promoted by international celebrities such as Star Wars actor Mark Hamill.
"Ukrainians need drones to protect their country, their freedom and the values ​​of the entire democratic world," Hamill said after being named an "ambassador" of the program in September. "Now is the best time for everyone to come together and help Ukraine stand firm in this war with the evil empire."
With US officials estimating that Russia suffered more than 100,000 casualties during the war and following successful Ukrainian counter-offensives, an increasing number of Russian troops are surrendering without the encouragement of enemy drones or soldiers.
Ukraine launched an "I Want to Live" campaign in September to encourage Russian troops to lay down their arms, using a hotline and chatbot to help troops pre-arrange their surrender. Campaign spokesman Vitaliy Matvienko told the Kyiv message this week that more than 3,500 requests have been received since Sept. 18.
News week has contacted the Russian Ministry of Defense for comment.