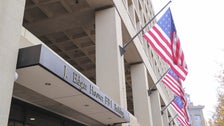 NEW YORK (UKTN) — A former senior FBI counterintelligence official has been indicted on charges of aiding a Russian oligarch in violation of U.S. sanctions.
Charles McGonigal, the former special agent in charge of the FBI's counterintelligence division in New York, has been charged in an indictment with collaborating with a former Soviet diplomat turned Russian interpreter on behalf of Russian energy magnate Oleg Deripaska.
McGonigal was charged separately in federal court in Washington, D.C. for concealing $225,000 in payments he received from an outside source with whom he traveled to Europe.
McGonigal was required to report contacts with foreign officials to the FBI, but prosecutors allege he concealed that from his employer while traveling on business and pursuing overseas travel that created a conflict of interest with his law enforcement duties.
McGonigal, who had overseen investigations into Russian oligarchs including Deripaska before retiring in 2018, reportedly worked to have Deripaska's sanctions lifted in 2019 and took money from him in 2021 to help a rival oligarch to investigate.
McGonigal, 54, and the interpreter, Sergey Shestakov, 69, were arrested Saturday and will appear in court in Manhattan on Monday.
They are charged with violating and conspiring to violate the International Emergency Economic Powers Act, conspiracy to commit money laundering and money laundering. Shestakov is also accused of making material misstatements to the FBI.
The US Treasury Department added Deripaska to its sanctions list in 2018 for alleged ties to the Russian government and the Russian energy sector amid Russia's ongoing threats to Ukraine.
Messages requesting comment were left for attorneys for McGonigal and Shestakov. Lawyers for Deripaska did not immediately email back on Monday seeking comment.
The New York indictment alleges that in 2018 McGonigal was introduced by Shesktaov to a former Soviet diplomat who acted as an agent for Deripaska. That person is not identified in court documents, but the Justice Department says he was "rumored in public media reports that he was a Russian intelligence officer."
According to the indictment, Shesktaov asked McGonigal for his help in getting the daughter of Deripaska's agent an internship with the New York Police Department. McGonigal agreed, prosecutors say, telling a police contact, "I have an interest in her father for a number of reasons."
.