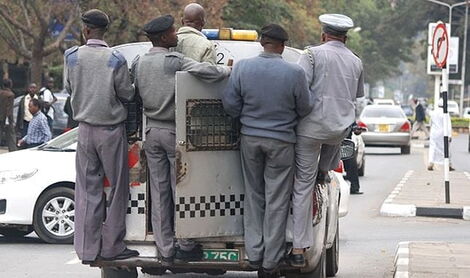 A taxi driver and an Askari County official were injured after a vehicle overturned along the Nakuru-Nairobi highway on Monday April 26 following a chaotic arrest.
Sources said the county askari entered the vehicle as he attempted to stop the taxi driver – while the vehicle was still in motion.
Speaking to media after the crash, the driver said the county agent's interference caused the vehicle to tip over.
Nairobi County Askaris on routine patrol.
Facebook
"When we got to the roundabout, he crossed his legs on the passenger side and hit the brakes, and asked me where I was driving," adding that he warned the askari not to interfere with him during the driving.
"He did the same thing again and threatened to cause an accident. I tried to steer the vehicle and take his foot off the pedals at the same time.
"Finally, he overpowered me during the fight and grabbed the steering before the car overturned," recalls Richard Gichuki, the taxi driver.
The county officer wanted to arrest the driver after he allegedly failed to provide proof that he had paid the parking fee.
Speaking on the issue, the Nakuru East Sub-County Police Deputy Commander Phanton Analo said the taxi driver attempted to escape to Nairobi.
Organizing Secretary, Digital Transportation Association Mathew Lesanjo criticized officers for not dressing in official uniform while on duty.
He noted that many taxis have not been able to afford the Ksh 1,000 seasonal parking fee due to the pandemic and the 20 hour curfew.
In January, an elderly woman escaped death by a mustache after being dragged by a rolling vehicle from Kisumu County.
An askari held the woman's right arm firmly, dragging her across the tarmac without bothering to let go despite her cries. The incident sparked outrage across Kisumu – Governor Anyang 'Nyong'o suspended said officers.
Askari County, taxi driver injured as vehicle rolls in roadside arrest. pic.twitter.com/c2A5gstDTJ

– K24 television (@ K24Tv) April 26, 2021