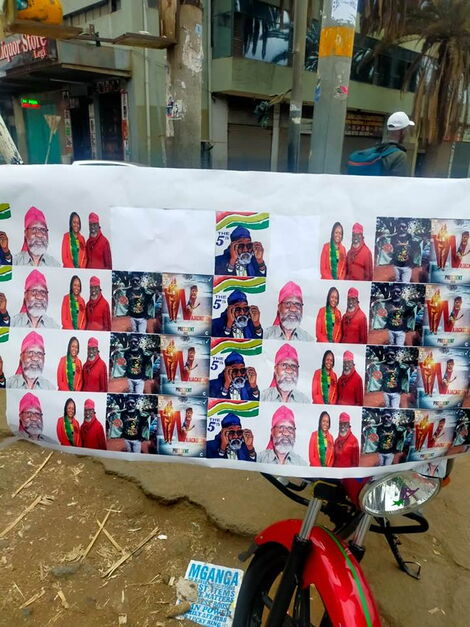 The popularity of Roots presidential candidate George Wajackoyah has spread beyond Kenyan borders, with his ideology gaining more and more traction in Tanzania.
On Sunday June 19, Wajackoyah was interviewed by Tanzania's top online journalist – Millard Ayo – where he spoke about his plans for the country. The interview immediately went viral in Tanzania as Kenya's neighbors expressed their admiration for the presidential candidate's original thinking.
The presidential candidate has been compared to former Tanzanian President John Magufuli for his independent thinking and his drastic proposals, including the legalization of marijuana, the hanging of the corrupt and a four-day working week.
A variety of stickers of Roots Party presidential candidate George Wajackoyah and his running mate Justina Wamae.
George Wajackoyah
"If he is elected and legalizes bhang, I will move to Kenya. I will not suffer from poverty while my brothers and sisters in Kenya excel. Kenya, this is your chance to elect the president of the people," said points out Ainet Kaijage.
"Someone sheds light on the process of changing citizenship and the cost of land in Kenya," reacted Rebeca Mkiva.
Wajackoyah added that if elected, he would contact Tanzanian President Samia Suluhu to reach a bilateral agreement that would allow the two countries to develop bhang atop Mount Kilimanjaro.
"We love President Suluhu and if I have the right, I will go to her so that we can associate. Research has shown that Mount Kilimanjaro is very suitable for bhang. If we associate to legalize it, we can changing the economy of East Africa Region.
"I am a personal friend of Museveni from Uganda and he has already legalized – same thing with Rwanda. If Tanzania joins the movement, it will be a game changer because marijuana grows naturally in Tanzania," Wajackoyah explained.
The presidential hopeful further impressed Tanzanians after promising to help end the differences between Suluhu's Chama Cha Mapinduzi (CCM) and the opposition Chadema party.
The quirky candidate has confirmed he has close ties to Chadema luminaries, including party leader Tundu Lissu – who was Wajackoyah's classmate at the University of Warwick.
"I was Chadema's lawyer and I am happy that Suluhu decided to make peace with the opposition. She also visited Lissu who was my classmate. I helped Godbless Lema to get the 'asylum here, as his lawyer, I have dealt with his papers here in my I will also talk to these people so that they can come back from exile and build Tanzania because Suluhu is making things better,' said the boss of the Roots party.
Lissu fled Tanzania in 2017 after an assassination attempt that saw gunmen spray dozens of bullets at his car – 16 of which hit his body in 2017.
He was treated in Nairobi before leaving Kenya for Belgium where he continues to live in exile.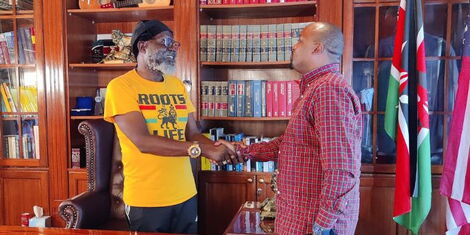 Roots presidential candidate George Wajackoyah and Wilson Muirani at his desk on Saturday, June 11, 2022.
Wilson Muirani
gun assassin