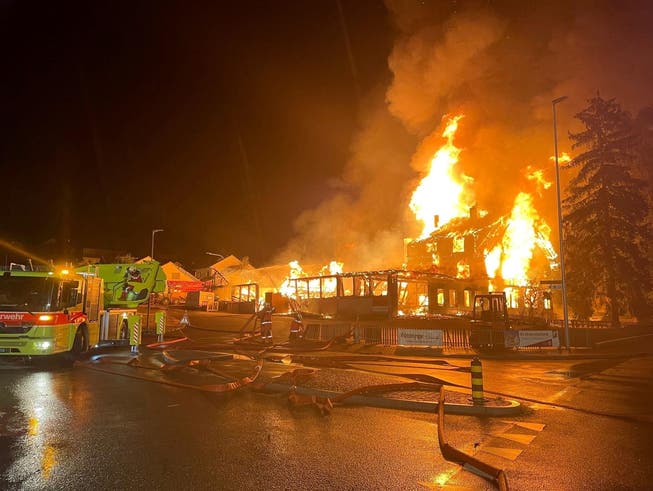 Oberweningen ZH

Was lightning to blame? Fire destroys carpentry and several buildings
A major fire destroyed a wood processing plant and several buildings in the Zurich municipality of Oberweningen. This caused damage in the millions, but no one was injured.
Shortly after midnight, the operations center received the message that a fire had broken out in a carpentry shop in the Zurich Unterland, the Zurich cantonal police said on Saturday. The fire spread quickly and completely destroyed a commercial building and several buildings belonging to the company. According to the police, the damage caused should far exceed one million francs. Finally, the fire brigade was able to extinguish most of the fire around 4 a.m.
The police do not rule out a lightning strike as the cause of the fire. Because shortly before that, a thunderstorm had passed over the region, the police write. The exact cause of the fire is still unclear and is now being investigated by the authorities.
It was also a restless night for 29 people from the vicinity of the wood processing plant. They were evacuated for security reasons and temporarily housed in the community hall. Around 5 a.m., eight families were finally able to return to their own four walls – four other families organized private accommodation with relatives and acquaintances, it is said. (abi)