The High Court dismissed an appeal by the Kenya Revenue Authority (KRA) to collect a share of the billions paid to the owners of the Westgate Mall as compensation following the 2013 terrorist attack.
Judge David Majanja confirmed the position of the Tax Appeal Tribunal preventing the tax authorities from claiming part of the Ksh 4.4 billion compensation paid to the shopping center by Kenindia Insurance.
The KRA, through the Tax Commissioner, appealed the decision as it requested Ksh 380.3 million from the owners, noting that part of the compensation (Ksh 660 million) should have been classified as returned.
High Court Judge David Majanja
Deposit
In his ruling, Majanja said KRA had shown no error in the court ruling.
"On the other hand, Sony Holdings was able to demonstrate before this tribunal that the Tribunal reached the correct conclusion on the basis of the facts and the law," observed the judge.
The insurance company paid Ksh3.1 billion in compensation to the mall following the terrorist attack and an additional Ksh1.2 billion for rent lost during the mall's closure.
In court documents, the KRA sought to impose Ksh1.2 billion on the amount arguing that the mall owners had classified some of the amounts as capital income instead of income without supporting documents.
During court proceedings, mall owner Sony Holdings Limited noted that the compensation was classified as income instead of capital by the tax agency, which it criticized.
In 2019, High Court Judge John Mativo quashed a demand by the mall owner to stop the KRA from demanding taxes.
The owners further claimed to have suffered a net loss of nearly Ksh 1 billion after the mall was rebuilt to Ksh 4.04 billion against compensation of Ksh 3.1 billion.
"I conclude and submit that the applicant has not presented reasons to demonstrate that the conduct of the impugned decision is legally fragile," said Judge Mativo.
Westgate Shopping Center reopened in 2015 following the 2013 terrorist attack which left 67 dead and many injured.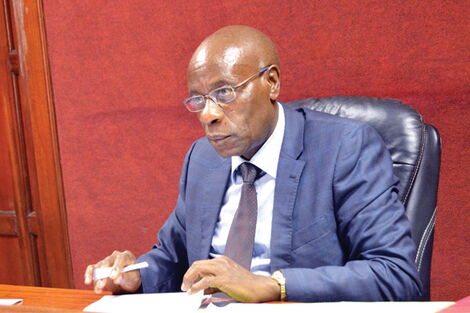 High Court Judge John Mativo in court at an earlier hearing.
Digital citizen