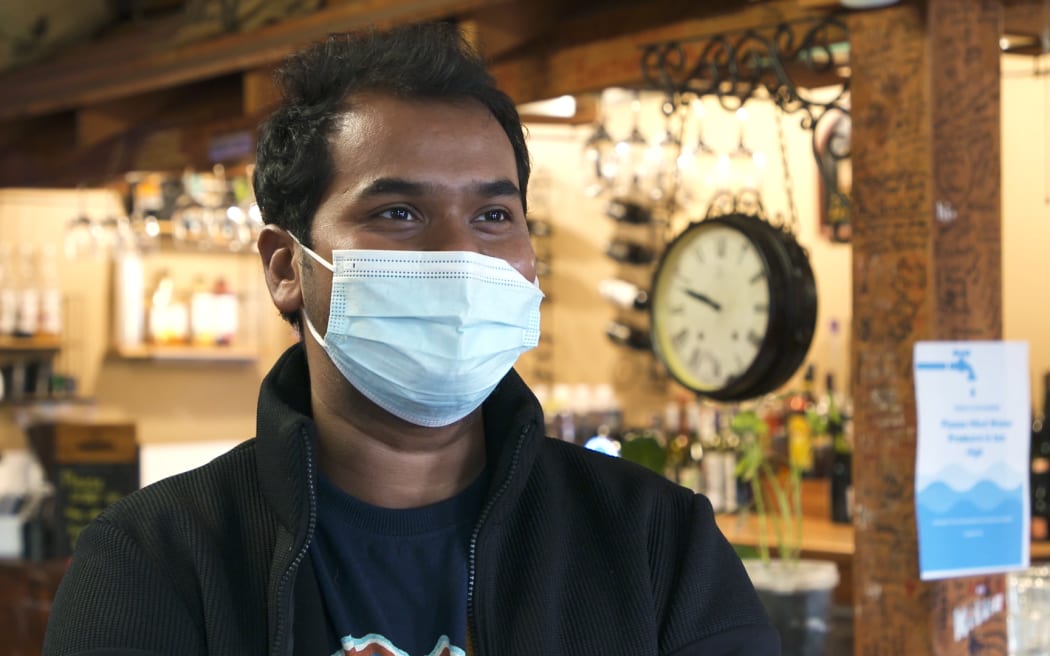 It's a 30-year project and billions of dollars in the making. Now the completed Waikato Expressway will change the look of the region's towns and villages for better or for worse.
The new Auckland-Tīrau highway is likely to cut the driver's average journey by 35 minutes, as it bypasses towns that State Highway 1 used to pass through.
On the south side of the route, Tīrau residents are quietly hoping it will help their businesses return after some difficulty, even closing due to Auckland's lockdowns.
"Brilliant, absolutely brilliant," said a resident of Tīrau.
"I love it. People are leaving Auckland and the first city they hit is Tīrau. It's great for our town," said another.
Paul Andugula has owned the Cabbage Tree Cafe for seven years. He told Checkpoint the past two years have been dark times.
"When the borders were closed, we realized that 70 percent of our business comes from Auckland."
With a more direct route to Tīrau from Auckland, he said it would be good for the city.
"We are happy to serve them, come to us and generate more business for us. We are a small town and it is beautiful, nice to see you all."
At home decor store Notting Hill, employee Cassie Winikerei told: Checkpoint Opinions are divided about the new road, but she sees the opportunities.
"We are much busier. It is very good for our business, but I do feel sorry for the people on the main road because it is so busy."
The big problem for Notting Hill, with another outlet on the other side of the main road, is the danger to customers trying to cross.
"It would be nice to have a zebra crossing. But yeah, I really like it."
However, some in Tīrau are not happy with the highway that ends in the city. Anonymous, they said it doesn't lighten the city's reputation as a transportation bottleneck.
There are some features along Tīrau's main road that some locals believe are causing problems.
"You come on a Sunday afternoon and everyone drives very slowly because there are 50 cafes here, and then people walk along the crosswalk to see the sheep and the dog, so that has to change," said one man.
About 20 miles north in Cambridge, locals say the city is getting more attractive by the day, thanks to the highway east of the city.
"It literally makes life so much easier and everyone is talking about it. There are concerns that some places will be marginalized, like Huntly, but that's not really happening," said real estate agent Cathy O'Shea.
"What we see is that people enjoy the tranquility of 'village life'."
She said the biggest problem is actually where people should be placed.
"We just don't have enough houses, properties. We are working 24 hours a day every Monday.
"Don't believe what you read, the highway just catapulted us, the area, into the future."
A newly built, low-maintenance lock and brick townhouse will sell in Cambridge for more than $1 million.
"This development… we only have three left and they're selling about $1.3 million… we just don't have enough. It's very, very hard to find anything to buy in Cambridge."
Further north in Gordonton – once a popular bypass for those avoiding Hamilton – there are concerns about customers.
"It hasn't had a huge effect on actual sales, but what it's impacted is the number of customers we have," farm store owner Kevin Clark said. Checkpoint.
"We're in the fortunate position that our customers seem to be spending a little more with us right now, but they're definitely less. Probably a third less than a month ago."
On a weekday morning in the city there is a stream of cars and stock trucks, a few customers in the cafes.
They are what Clark fears. While he is a destination, others will miss the traffic.
But not all hope is lost for the rural village. Far from it, Clark said.
"We'd like to think we've had enough of ourselves now, the little art gallery – the Mandarin Tree – a very good lighting shop called Mr Ralph, who brings a lot of people to the village.
"We have the Zealong Tea Estate, things like that, Woodlands Estate and a lot of other things that bring people here."
For the locals, like their neighbors in Huntly, they are not bothered by the fact that SH1 traffic no longer runs through their town.
"I think people will benefit from it being quieter and more pleasant. It's a small area to improve, like a pedestrian environment," said one resident.
Ralph is a shop that wouldn't look out of place in Auckland's Newmarket shopping district.
Owner Rachel Williamson told Checkpoint there will be some fears with the change.
"So it's just about what we're doing, moving forward, getting people here.
"I feel really good about it."
.