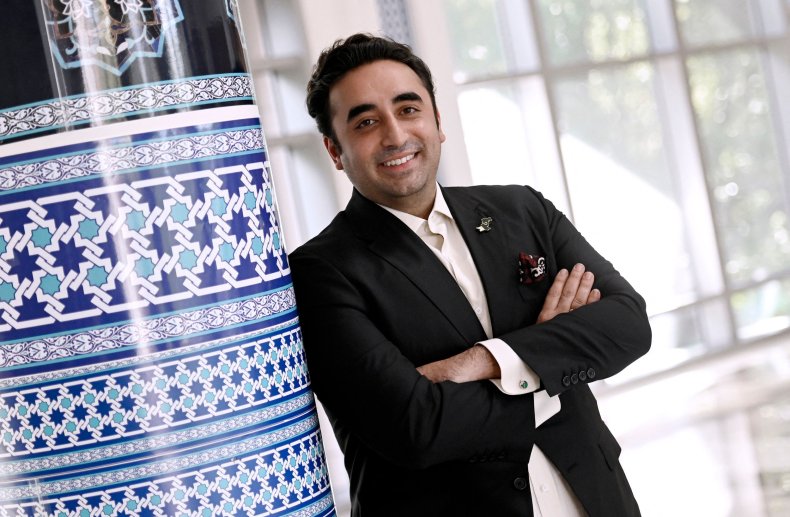 Pakistani Foreign Minister Bilawal Bhutto Zardari sparked a flurry of conspiracy theories this week after referring to a "new world order" during remarks at the World Economic Forum (WEF) in Davos, Switzerland.
Zardari used the phrase — long in the vocabulary of conspiracy theorists — on Friday during a panel titled "A New Helsinki," in reference to the Helsinki Final Act of 1975.
That was an important diplomatic agreement signed during the détente era between 35 countries agreeing on issues such as sovereign equality, peaceful settlement of disputes and territorial integrity.
During his remarks, Zardari said: "There is a lot of debate about what the new world order will be or how, even in the context of a 'new Helsinki' … how are we working towards that new normative international order that will allow us to address our differences and disputes as the civilized world."
He also said, "I hope that this time, once we build this new world order or new rules-based order, the voice of the global south and the developing world will be included."
The comments sparked an outpouring of criticism and conspiracy theories online, with some social media users pointing to the long-running conspiracy theory that there would be a "new world order" that would entail a "one world government".
The WEF, an annual summit where billionaires, politicians, business leaders and celebrities meet in the Swiss Alps to discuss global issues, has long been the subject of conspiracy theories.
Zardari, 34, is the youngest foreign minister in Pakistan's history and a member of a prominent political family.
His mother was Benazir Bhutto, who served as Prime Minister of Pakistan twice in the 1990s and was assassinated in 2007. She was the first woman to hold that position. His father is Asif Ali Zardari who was President of Pakistan from 2008 to 2013 while his grandfather was also Prime Minister.
According to Pakistan's Foreign Ministry, Zardari wants to "continue their legacy of serving the people of Pakistan".
He is currently chairman of the Pakistan People's Party (PPP), the second largest party in the country's coalition government, and became foreign minister in April 2022.
Born in 1988, Zardari earned a degree in history and politics from the University of Oxford in the United Kingdom, which his mother had also attended.
Pakistan's Foreign Ministry describes Zardari as "a devout advocate for democracy and freedom of expression, as well as a staunch supporter of women's empowerment, social justice, minority rights, parity, religious and interfaith harmony. Previously as a leader of the second largest opposition party in parliament, he campaigned against inflation and human rights violations."
In December, Zardari recounted News week in an exclusive interview that the Taliban in Afghanistan should be part of the fight against terrorism in Asia.
"They are the interim government in Afghanistan, they have promised the world as part of the Doha agreement with the United States that they will ensure that their country will not be used for terrorism," Zardari said.
"So I think we need to talk to them about that, give them the opportunity to show — and we can help them build the capacity — but that they have the will to address this issue."
News week has contacted the World Economic Forum for comment.